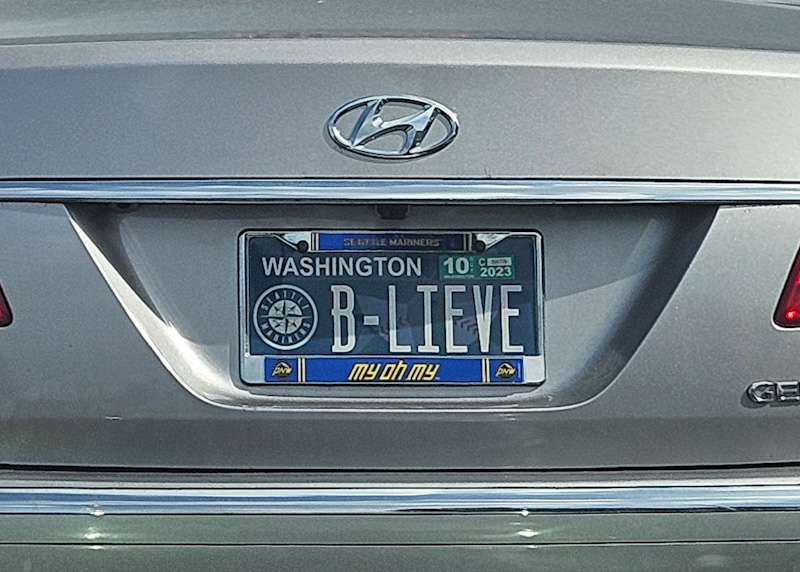 Photo and Commentary ©2023 by Maylan Schurch
Sabbath, September 16, 2023
This past Wednesday at a traffic light I saw this wonderful license plate. I've lived in the Puget Sound area since 1982, and have listened to many a Seattle Mariners game.
What's so heart-tugging about this plate is all that it contains. It sports the team colors and the familiar "compass" logo. It even trumpets "My Oh My," one of now-deceased announcer Dave Niehaus' trademark exclamations when the team made an exciting play.
But best of all is the "B-LIEVE" lettering. Year after year after year the team has tantalized its fans with the hope that this might be The Year, but according to their Wikipedia entry, "As of 2022, the franchise has finished with a losing record in 30 of 46 seasons. The Mariners are the only active MLB franchise never to have appeared in the World Series, and currently hold the longest active World Series appearance drought in MLB."
This year, however, the hope is much stronger than usual. As I'm writing this, they've won 81 games and lost 65, and they're third place in the American League West. And whoever owns the car on which the plate is proudly bolted is probably "b-lieving" with all his or her heart.
The Bible has a lot to say about hope, hope which doesn't depend on human pitching or hitting but in a believable God. Check out some of Scripture's quotes at this link: