Each day, a number of our church members who are also photographers post photos and spiritual commentary, following this schedule: NOTE: To see previous blog entries, access blog archives on the right sidebar.
Sunday (Shelley Schurch)
Monday (Cheryl Boardman)
Tuesday (Robert Howson)
Wednesday (Darren Milam)
Thursday (Russell Jurgensen & family)
Friday and Sabbath (Pastor Maylan Schurch)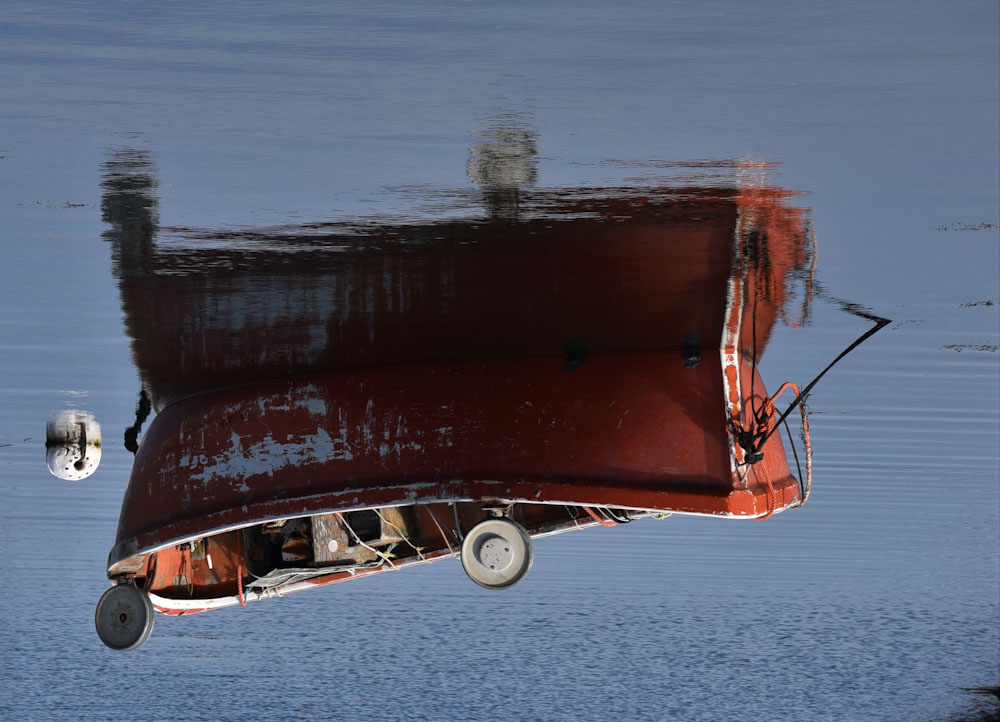 Photo and Commentary ©2020 by Darren Milam
Wednesday, August 5, 2020
No, you don't need to adjust your glasses or screen – this image is indeed, upside down. Although the reflection can be a bit deceiving. This particular small craft was anchored in a tiny harbor near Peggy's Cove, about 35 miles outside of Halifax, Nova Scotia, Canada. In the harbor there were lots of lobster traps, buoys, working fishing/lobster boats and then I saw this one – all alone anchored and weathered. It's fun to capture the reflection of the object, as well as the actual object – in some cases turning them upside down to see how still the reflection resembles the "real thing."
When I was looking at this, I thought about my own journey and the times (with all that is going on in the world) I feel like I am upside down. When I catch myself feeling this way, I make sure I am "grounding" myself with God. I make sure I am following a routine of prayer and discussion. We all know He is the true anchor. No matter what's going on – physically, emotionally, spiritually – that has you feeling like you are turned upside down, Jesus is there for us. He is right beside us. He is waiting to help us get right side up.
Here's a perfect example of Paul writing an encouragement letter to Timothy – 2 Timothy 4:17 & 18:
But the Lord stood with me and strengthened me, so that the message might be preached fully through me, and that all the Gentiles might hear. Also I was delivered out of the mouth of the lion. And the Lord will deliver me from every evil work and preserve me for His heavenly kingdom. To Him be glory forever and ever. Amen!
Allow God to be there for you, strengthen you and protect you. Get right side up.