Each day, a number of our church members who are also photographers post photos and spiritual commentary, following this schedule: NOTE: To see previous blog entries, access blog archives on the right sidebar.
Sunday (Shelley Schurch)
Monday (Cheryl Boardman)
Tuesday (Robert Howson)
Wednesday (Darren Milam)
Thursday (Russell Jurgensen & family)
Friday and Sabbath (Pastor Maylan Schurch)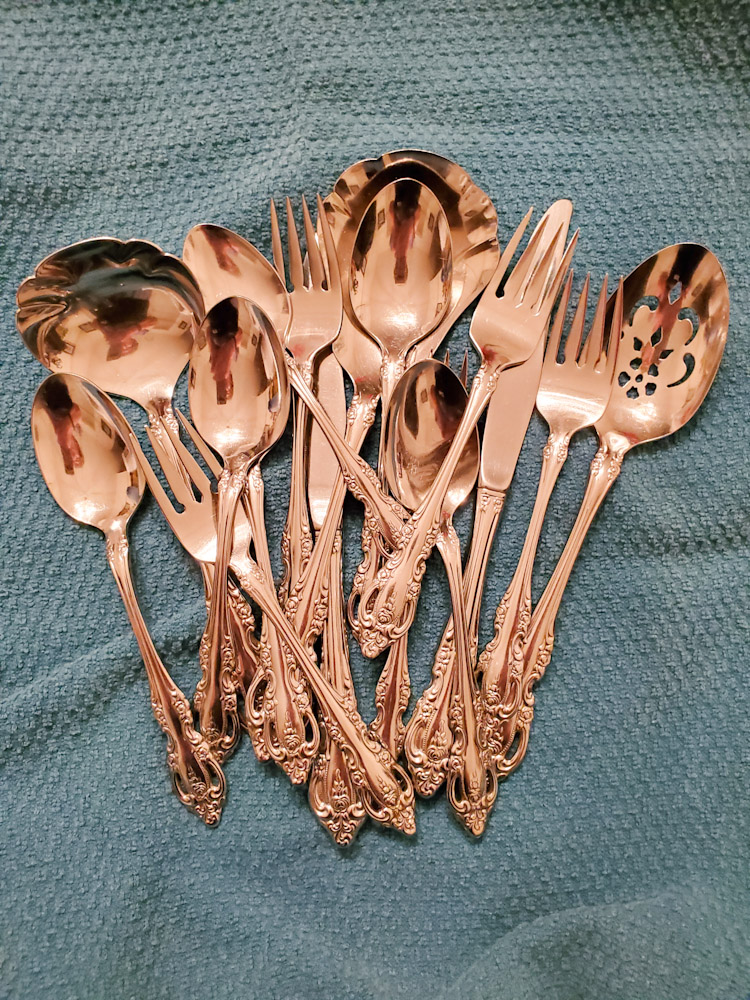 Photo and Commentary ©2021 by Shelley Schurch
Sunday, January 17, 2021
When I woke up this morning, I was thinking about my silverware. Or, to be totally accurate, my stainless steel. I'm not sure why it surfaced to the top of my thoughts as I climbed out of bed, but there it was. And I was thinking of it in a specific, admiring way; I was grateful for how "enduring" it was.
As I bustled about stirring the oatmeal, slicing an apple and pear, peeling a banana, and heating our breakfast beans, I stopped to pay more attention than I usually do to my cutlery. Yes, it is certainly sturdy and dependable – no hinges, batteries, or moving parts to wear out or cause kitchen complications.
I called it my silverware when it actually became our silverware almost 43 years ago. It was part of what I brought to our marriage, in addition to a cat named Joseph and a whole lot of books. As I gazed at it a little longer this morning, the name of its pattern eluded me and I assumed it was gone for good. But tonight I suddenly remembered it: "Brahms."
When I was still single, teaching in a one-room church school on an Alaskan logging camp island, my mother, who lived many miles away in civilization, decided I should have my own silverware pattern instead of my small hodge-podge of hand-me-downs. She announced this in a letter in which she included a slim catalog of cutlery, available to anyone who clipped and saved enough boxtops from Betty Crocker products. She asked me to choose my pattern and said she would start saving, and would also ask my two older sisters and some neighbors and friends to save boxtops for me.
I suspect she saw no immediate marriage prospects for her youngest daughter who loved living in the midst of a small number of loggers and their wives, teaching their children, and this was her way of giving me the equivalent of a bridal shower!
And so my knives and forks and spoons are not only enduring in their composition, they also speak to me daily of the enduring love of my mother, and my sisters, and the friends and neighbors who faithfully saved their Betty Crocker boxtops for me.
Why does this suddenly tickle my eyes with tears? Probably thinking about my mother's thoughtfulness so many years ago, and wondering if I had thanked her enough. And also that phrase, "enduring love." Is there anything better than that? Sturdy, dependable, long-lasting, permanent love. When we experience that here on earth it is a taste of heaven, a glimpse of God.
I'm going to search out the word "endure" in my Bible; I think that will be an encouraging exploration. I've already looked up Psalm 136 where the phrase "His love endures forever" is repeated 26 times (NIV).
And I think I'll memorize Hebrews 12:1-2; I've read it enough times over the years that I think I've absorbed most of it already! Yet even with that familiarity I'd forgotten that it speaks of two kinds of endurance – ours and Jesus':
Therefore we also, since we are surrounded by so great a cloud of witnesses, let us lay aside every weight, and the sin which so easily ensnares us, and let us run with endurance the race that is set before us, looking unto Jesus, the author and finisher of our faith, who for the joy that was set before Him endured the cross, despising the shame, and has sat down at the right hand of the throne of God.
He ran His race, and now cheers us on. He is the One who gives us the endurance to finish our race, and to finish it well.
As you walk into this week, may you sense the presence and joy of the Author and Finisher of your faith.