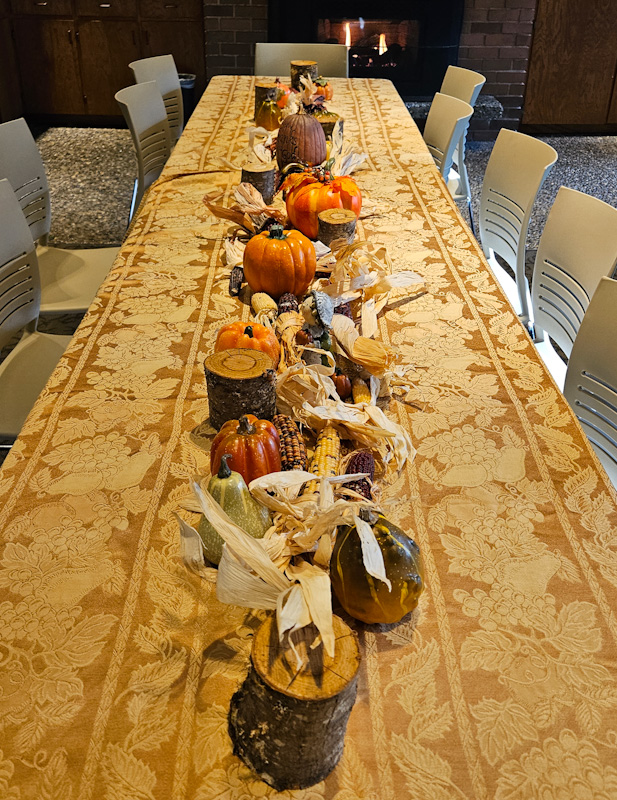 Photo and Commentary ©2023 by Shelley Schurch
Sunday, November 19, 2023
I'm puzzled at the decision made by three-blocks-away neighbors. Last week they had a big, colorful inflatable turkey in their front yard. Two days ago as we walked by on our morning trek, we spied the turkey, still fully-inflated, sitting amongst boxes in their garage. A Charlie Brown and friends nativity scene and other Christmas decorations had usurped its place on the lawn.
What?! Why was the turkey benched, when it was still a full week before Thanksgiving? Then we noticed that their neighbors across the cul-de-sac had their Christmas tree up and shining in their living room window. Maybe the two families had raced to see who could be first to be lit-up for Christmas. Whatever the reason, it was Good-bye, Gobbler.
I love the Thanksgiving season, and I don't like to see it squashed in so briefly between Halloween and Christmas.
And so I let it expand at least throughout the month of November. I love the reminder I bring out each year: "If we pause to think, we'll have cause to thank."
So this Thanksgiving week I'm going to pause longer, and with more intention than usual, to find my thankfulness. Once I find it, I'm going to write it down, speak it, send it, share it.
As I begin my "thinking about thanking," I realize that this November is, like all Novembers, bitter and sweet:
My mother and oldest sister were born in November. My mother also died in November, three days before her birthday.
Within a few days last week we heard news of an engagement, and news of a divorce. Hearts entwined, hearts broken.
There was a wonderful Thanksgiving dinner at church yesterday, with the added joy of the dedication of our long-awaited renovated church kitchen. But some dear friends couldn't attend as planned, sending instead an urgent prayer request for a loved one.
And so we turn again to Romans 12:15 and, "Rejoice with those who rejoice, and weep with those who weep."
But there will come a Day when all tears are wiped away. There will be no more bitter, only sweet.
When I was growing up we had a heavy, ornate dining room table that had come with the house when my parents bought it in the late 1930's. For holiday meals we "put the leaves in." That meant that two strong people at opposite ends of the table pulled it apart far enough to allow access to wooden inserts, or extensions, folded and stored in the table's innards. (For some reason unbeknownst to me, we called them "leaves.")
We could add one, two, or even three leaves before the table was shoved together again. Three leaves meant a lovely, long table. The sight of it, and the elegant, ivory lace tablecloth covering it, heightened my anticipation of the feast to come. I knew there would be food we only tasted on holidays, including my favorite clover-leaf rolls with real butter. There would be family, and there would be guests; plenty of room for all.
My child's heart (and stomach) could wish for nothing better.
All these years later, both my heart and stomach still appreciate holiday tables and all they include – the family, friends, and feasting. But I am waiting for a better table. I am anticipating a higher holiday, a celebration beyond our imagining, when we sit down together in heaven. All the table leaves will be added; there will be plenty of room for all.
And Jesus, our Host, will welcome us home, and spread out His scarred hands to bless the food.
By God's sufficient grace, and by His grace alone, you'll find me at the feast.