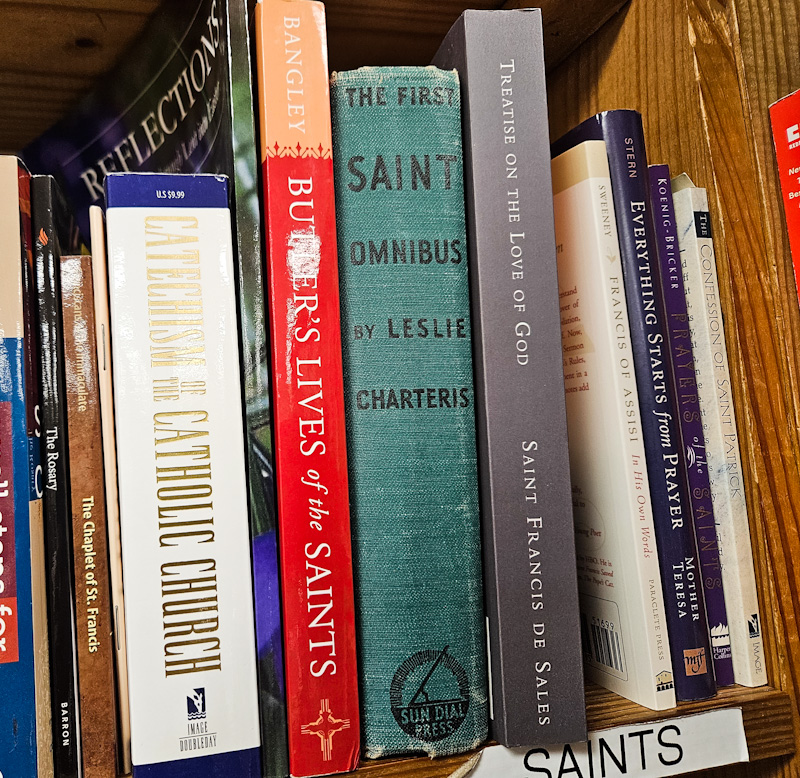 Photo and Commentary ©2023 by Maylan Schurch
Sabbath, November 18, 2023
Thursday evening of this week I spent a bit of time in the Tukwila Half-price Books store, scanning the shelves of the religion section.
Suddenly I grinned. I'd spotted a misplaced book. Don't read any further, but glance back at the photo. Can you spot which book doesn't belong?
As you can see, my phone camera is aimed at a section of Catholic books, most of them focusing on the saints, such as St. Francis of Assisi, someone named St. Francis de Sales, and even a book by the recently-beatified Mother Teresa.
However, notice the faded blue volume called The Saint Omnibus, by Leslie Charteris. Printed in 1941, it contains several novelettes and short stories about Charteris' hugely popular detective character. The Half-price staff, seeing the "saintly" title, and not having the benefit of my ancient and "old-time-mystery-buff' knowledge, filed it among the religiously righteous.
The Bible uses the word "saint" a lot, mostly in the New Testament. According to Eerdman's Dictionary of the Bible, "saint" "in biblical usage [is] not restricted to specially holy individuals, but a term for the people of God in both the OT and NT."
In fact, Paul could write Ephesians "to the saints who are in Ephesus" (Ephesians 1:1 NKJV) and then strongly insist that they live together in unity (chapter 4).
And in each of his "saint"-targeted epistles, Paul pulled no punches, but insisted that nobody had arrived at full holiness, but needed to open their hearts and minds and bodies to spiritual growth.
Which is the point of the dozen or so Bible passages you'll find at the link below. Check them out!