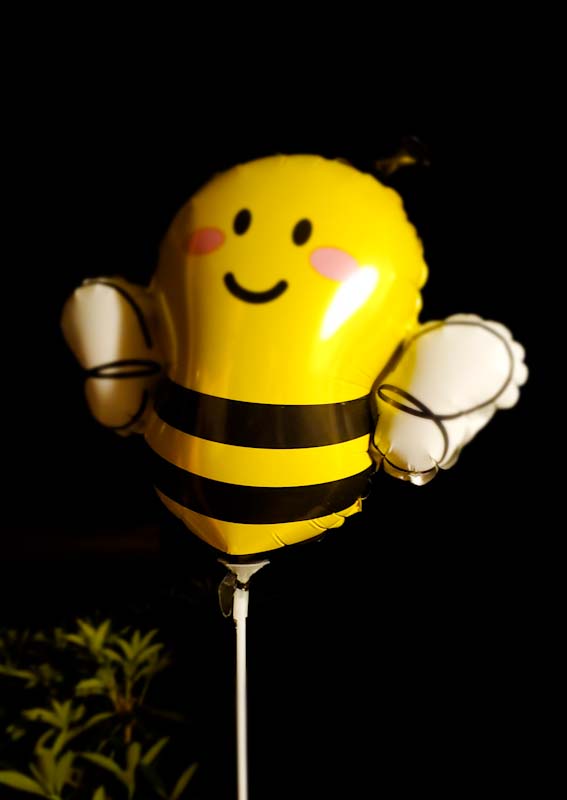 Photo and Commentary ©2022 by Shelley Schurch
Sunday, August 28, 2022
This big bumblebee arrived on our doorstop during the early days of the pandemic, a cheerful addition to a large potted plant a coworker had sent me. I've almost tossed him out a dozen times, but each time my eyes meet his smile, I relent and extend his stay a little longer.
Last week as he caught my eye one more time, I suddenly thought of these words, "to be" or "to bee?"
To me, "to be" speaks of stillness and contentment, and those slow, deep breaths people keep recommending we take to curb the craziness of life. Paying attention to what is most important.
"To bee" speaks of action, as in, "busy as a bee." Hard-working, constantly in motion, getting things done.
During our morning walks my husband and I enjoy watching bees as they swarm around and in our neighbors' tall dahlias. It makes me smile to think that in order to observe and appreciate all this busyness we have to stand still.
When you hear this pair of phrases, "to be" and "to bee," does it remind you of any Bible story? I think of that brief glimpse into the home life of Mary, Martha, and Lazarus, sisters and brother who provided Jesus and his disciples a peaceful place to rest among friends, a respite from being hounded and harassed by the Jewish leaders who dodged their footsteps day after day.
Except this day Martha wasn't feeling the peace:
As Jesus and his disciples were on their way, he came to a village where a woman named Martha opened her home to him. She had a sister called Mary, who sat at the Lord's feet listening to what he said. But Martha was distracted by all the preparations that had to be made. She came to him and asked, "Lord, don't you care that my sister has left me to do the work by myself? Tell her to help me!"
"Martha, Martha," the Lord answered, "you are worried and upset about many things, but few things are needed – or indeed only one. Mary has chosen what is better, and it will not be taken away from her." (Luke 10:38-42 NIV)
It seems that Mary had chosen "to be" while Martha was acting more bee-like. Although there must have been more going on than busyness, since she is described as distracted, worried, and upset. (We could call this "too bee"!) Apparently Jesus could see her heart as well as her actions, and knew she needed to choose the one thing Mary had chosen, to first sit at His feet and listen before getting up to serve.
To sit at someone's feet meant to assume the posture of a learner, paying close attention to a teacher. In this story, the truest Teacher to ever walk this earth.
I like the way Jesus said, "Martha, Martha." I read that as Jesus calming her down, soothing her ruffled feathers. I like to think she put lunch prep on hold for at least a few minutes so she could join Mary at Jesus' feet. Then I like to think that both of them got busy putting the finishing touches on the meal and served their guests.
It doesn't seem to be a choice between "to be" OR "to bee," but choosing both, just making sure to put them in the right sequence.
As we step out into this brand-new week, we have the privilege of asking Jesus to change our hearts each day so that we can be like Him – and we know He will get busy and do that!