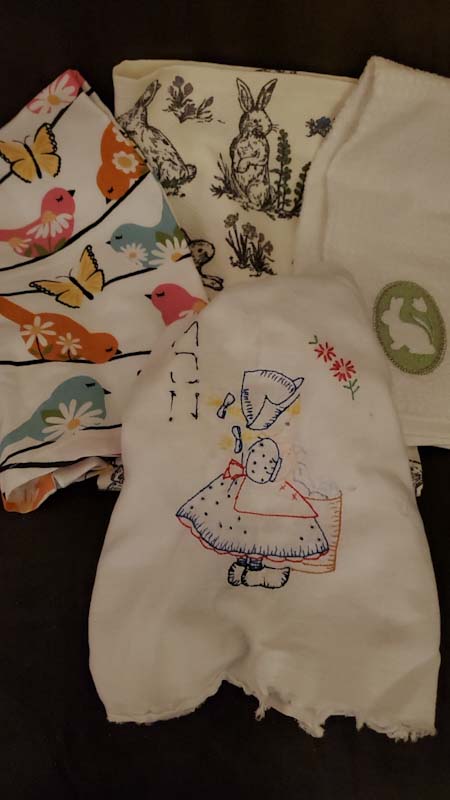 Photo and Commentary ©2023 by Shelley Schurch
Sunday, January 15, 2023
Have you ever received a Happy New Year box in the mail, and discovered it brimful with gifts that have the sweet fragrance of friendship and springtime?
I enjoyed that experience an hour ago as I unpacked and unwrapped gifts from my dear friend Jan in too-far-away Michigan. You see three of those gifts in my photo above.
It didn't hit me when I unwrapped the first kitchen towel, nor the second – but when I unwrapped the third towel (the colorful one with birds, butterflies, and daisies) I could feel tears tickle my eyes.
All because of the fourth towel, the one in the foreground with the little Dutch girl tending to her laundry, the one that's worse for wear.
My beloved mother-in-law stitched me a set of kitchen towels over 30 years ago, one for each day of the week. I have used them week in and week out, but this week as I held this Monday towel in my hands, I had to admit that it was time to throw in the towel – or throw it out!
As usual, my mind tried to wriggle out of this parting of the ways with something I've treasured by trying to imagine how I could repurpose it – but what you don't see in this photo are the five or six holes that punctuate the worn fabric. It's time.
But it's still a bit of a heart wrench for a sentimental soul like me to throw away something someone I loved made for me, tattered though it be.
And then in today's mail comes heart balm – not one, not two, but three towels to grace my kitchen, given by someone else I love.
I remember now that I have, tucked away in a drawer, a dresser scarf (now there's an old-fashioned phrase that takes me way back to childhood . . .) that my mother-in-law also embroidered for me.
She told me more than once how she was sitting in a car with a sleeping grandbaby on her lap, and gave some money to a relative to run into a store and buy a dresser scarf and embroidery floss for her.
The pattern printed in light blue ink on the scarf turned out to be an intricate one. Her embroidery skills were up to the challenge, but it took longer than she'd hoped so she was apologetic as she told me the story. And then, lest I think she was complaining, she always hastily added, "But you are worth every stitch!"
Her love for me, and all her family, was a pure reflection of Jesus' love. I can hear Him saying:
"That stumbling, falling journey up the hill to Calvary, carrying that heavy cross? You were worth every step!"
"That blood that poured out when the soldier speared my side? You were worth every drop!"
As we walk through this brand-new week, if you are ever tempted to sink down in discouragement, to throw in the towel, remember Jesus calls you His beloved child, and counts you worthy, supremely worthy.
Therefore, since we are surrounded by such a great cloud of witnesses, let us throw off everything that hinders and the sin that so easily entangles. And let us run with perseverance the race marked out for us, fixing our eyes on Jesus, the pioneer and perfecter of faith. For the joy set before him he endured the cross, scorning its shame, and sat down at the right hand of the throne of God. Consider him who endured such opposition from sinners, so that you will not grow weary and lose heart. (Hebrew 12:1-3 NIV)