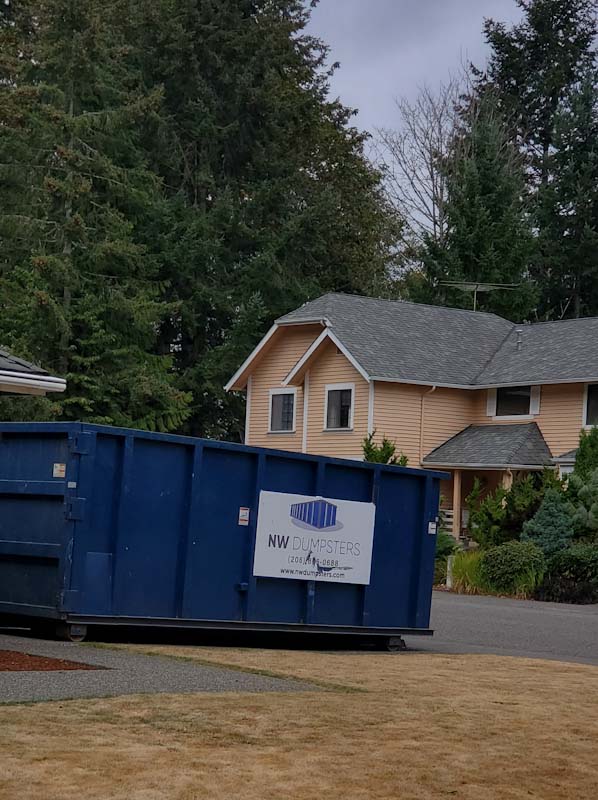 Photo and Commentary ©2022 by Shelley Schurch
Sunday, September 25, 2022
First there was one, then two, then three. Big blue dumpsters started cropping up on our neighborhood walking route recently (if something as large and heavy as a dumpster could be thought of as simply "cropping up.")
The one in my photo sat in a driveway for only a week or so, then disappeared. The other two remain in their driveways. One of them is very large and long and seems to have taken up residence. Judging by all the windows having been replaced in the two-story home behind it, and a Porta-Potty added to the driveway, and the dumpster filled to overflowing with a vast variety of objects, I think it's safe to say the house is undergoing extensive interior renovation.
And sometime when we weren't watching (which is 23 7/8 hours of each day) this huge dumpster was emptied and is now being filled a second time. Or perhaps the first one was hauled away and a second one brought in for round two.
One day last week as we were walking by this dumpster a song popped unbidden into my head. It's a brief chorus you may be accustomed to singing when life gets heavy:
I cast all my cares upon You,
I lay all of my burdens down at Your feet.
And any time I don't know what to do,
I will cast all my cares upon You.
(Author Kelly Willard, © 1978, Maranatha Praise, Inc.)
I like having enough songs stashed away in my cerebral storage that they can emerge whenever they spy a possible connection to my surroundings. And I can see the link easily enough here: people have been casting a lot of stuff into this dumpster and the end is not in sight!
How good it feels to spring clean/autumn clean, to clear out clutter, to remodel, renovate, start fresh – physically, mentally, emotionally, spiritually. What a relief to cast all our cares on Jesus, to throw off our backpacks of burdens. Especially when we have the assurance He will take care of them and us:
Therefore humble yourselves under the mighty hand of God, that He may exalt you in due time, casting all your care upon Him, for He cares for you. (I Peter 5:6, 7 NKJV)
As we continued our morning walk I thought, still humming the Cares Chorus, of other things I'd like to toss in a dumpster:
" . . . let us throw off everything that hinders and the sin that so easily entangles. And let us run with perseverance the race marked out for us . . ." (Hebrews 12:1b NIV)
Yes! Throw off anything that weighs me down, especially my sin. Anything that gets in the way between me and Jesus.
One of my favorite quotes from Holocaust survivor Corrie ten Boom is about God's forgiveness. In her book Tramp for the Lord she says: "When we confess our sins, God casts them into the deepest ocean, gone forever . . . . I believe God then places a sign out there that says No Fishing Allowed."
Or, in my case, No Dumpster Diving!
I don't know what the interior of the dumpster driveway house looked like before work began on it, but I'm sure it's going to be lovely when the renovation is complete. I smile just thinking about it, although I will probably never see it.
HOWEVER (written in caps because it is so much more than) I smile wider and am also moved to tears when I think of God doing His renovation work in me – day by day as I invite Him in and give Him the key. And then . . .
. . . being confident of this very thing, that He who has begun a good work in you will complete it until the day of Jesus Christ. (Philippians 1:6 NKJV)
As we step out into this brand-new week, we can rejoice that as we're walking, He is working!