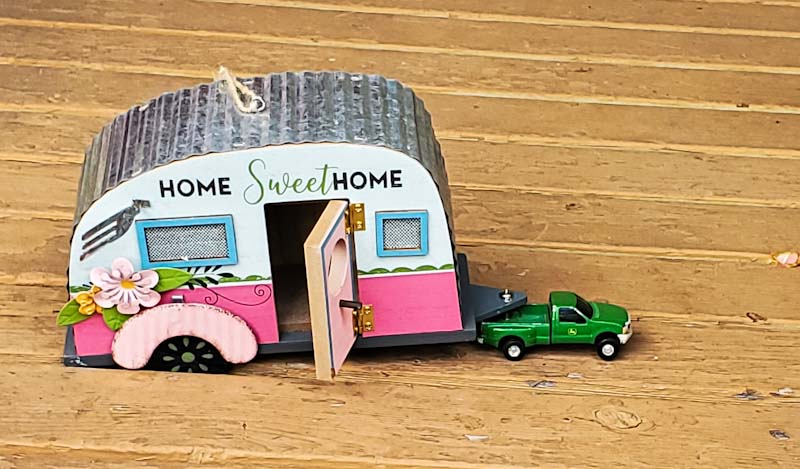 Photo and Commentary ©2023 by Shelley Schurch
Sunday, January 22, 2023
If you spy a trailer with a hitch, and you happen to be in possession of a truck, the most reasonable thing to do is to connect the trailer to the truck and take it on the road.
At least that's what my preschooler friend thought. While his mother and I were visiting on my front porch steps, he saw our Home Sweet Home trailer nestled among several pots of begonias, pulled a little green truck out of his bag, and quietly got to work.
I took the above photo to help document a delightful visit with him and his mother. The photo not only takes me back to that warm, sunny afternoon, but also prompts me to mull over homes I have known.
Until I left home to marry and set up my own home, I'd only lived in that one home – not counting dorm rooms and solo apartments. They really should count, though, if "home is where you hang your hat" (even if most of your stuff is in your parents' basement).
In those early adult years I thought of myself as portable, not sure where I would eventually settle down. And then I was blessed with the job of teaching in a one-room church school on a logging camp island. I lived in the two-story schoolhouse situated on a large raft that was connected by strong cables to land. So not only was I portable; so was my home. After I'd lived there two years, the school and all the logging camp trailers, bunkhouse, and power plant were floated and towed twelve miles away to another island we would call home.
Thinking back on all the places I would consider home, I calculate the total to be 15. I don't know how many more will be added to the list, but I would be happy if Jesus came while we were still living in our current home!
All my life I've sung with others, in church and around campfires, hymns and choruses that acknowledge all our homes here are temporary addresses:
"I'm a pilgrim, and I'm a stranger . . . "
"I'm but a stranger here, heaven is my home . . . "
"How far from home? I asked as on I bent my steps, the watchman spake . . . "
"Out on an ocean all boundless we ride, we're homeward bound, homeward bound . . ."
"Let us sing a song that will cheer us on the way, in a little while we're going home . . . "
And this cheerful chorus I learned as a teenager:
My home's in heaven
Just a-waiting for me,
And when I get there
How happy I'll be.
My home's in heaven,
The rent is free,
For Jesus paid it
On Calvary.
I've always liked this chorus and still sing it around the house, but I object to one word. Maybe you've spotted it – the word "rent."
Do you picture yourself renting a home in heaven? Me neither! Do you picture Jesus as your landlord? Me neither!
Jesus has paid for our heavenly home, not as a landlord but as our Best Friend and Saviour. It might be more accurate to sing, "The mortgage is free," but it wouldn't fit so well with the melody. I'll keep singing the song the way it was written because I understand and appreciate the songwriter's message.
As one of my bosses used to say, "The point is . . . "
The point is that home is where you hang your heart. Jesus hung His heart here, when He hung on the cross.
He made His home with us, died for us, and is waiting now for us all to come home.
Home sweet home.