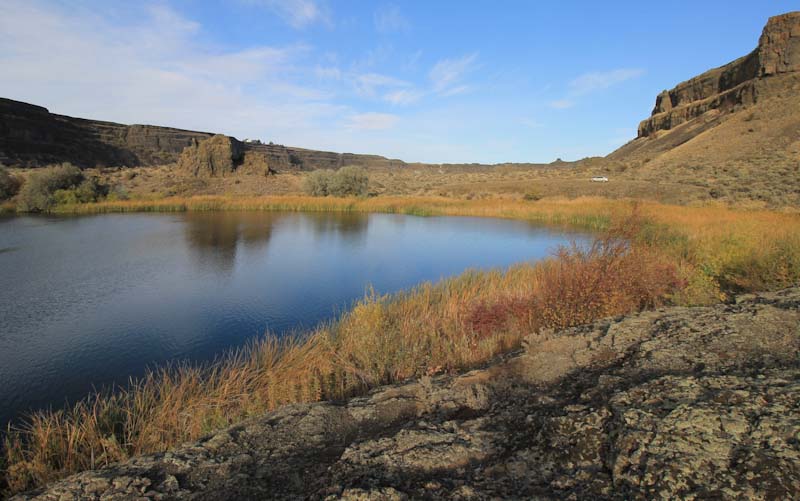 Photo and Commentary ©2022 by Cheryl Boardman
Monday, October 31, 2022
If you ever want to see the power of what water, lots of water, can do, take a drive over to Dry Falls Sun Lakes State Park in Central Washington. Even though the falls are dry, there are still lakes below where they once plunged. You can access them through Dry Falls Sun Lakes State Park.
My sister and I took a trip to the park this past weekend and had the place practically to ourselves. I hadn't been there so late in the year before but the weather was great and the lakes were beautiful.
The above photo is of Perch Lake and you can see the 400 foot basalt wall behind it on the top left. The easiest lake to get to via a paved road is Deep Lake which is another beautiful lake. The road to Perch Lake is not paved and at the end of the season is somewhat bumpy to say the least! (My sister told her husband we were off-roading!) Dry Falls itself is believed to have been 4 times the size of Niagara Falls.
You placed the world on its foundation
so it would never be moved.
You clothed the earth with floods of water,
water that covered even the mountains.
At your command, the water fled;
at the sound of your thunder, it hurried away.
Mountains rose and valleys sank
to the levels you decreed.
Then you set a firm boundary for the seas,
so they would never again cover the earth.
Psalm 104:5-9 (NLT)