Each day, a number of our church members who are also photographers post photos and spiritual commentary, following this schedule: NOTE: To see previous blog entries, access blog archives on the right sidebar.
Sunday (Shelley Schurch)
Monday (Cheryl Boardman)
Tuesday (Robert Howson)
Wednesday (Darren Milam)
Thursday (Russell Jurgensen & family)
Friday and Sabbath (Pastor Maylan Schurch)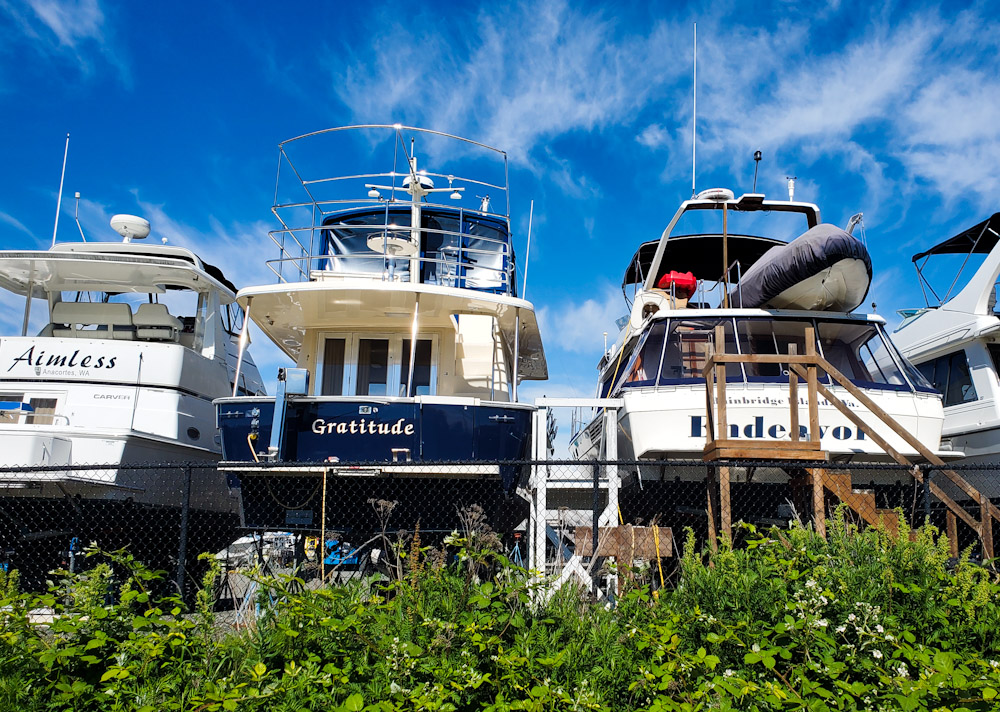 Photo and Commentary ©2021 by Maylan Schurch
Sabbath, June 12, 2021
As I mentioned in yesterday's blog, Shelley and I got away for three days early this week. One of our destinations was Anacortes, where we took a stroll along a trail near the waterfront. We passed by what must be a rental boat storage area, and I enjoyed looking at the names on the sterns.
Some people today seem to be sailing on the leftmost boat, Aimless. They seem not to know or even care about their destination—maybe they don't think there is one.
Others seem strenuously to be aboard the boat on the right, whose name, slightly obscured by the wooden staircase, is Endeavor. This is the "bootstrap" crowd, whose philosophy seems to be, "Whatever I am or become is my responsibility. In our survival-of-the-fittest world, I'm going to get fit enough to outlast and out-trample the weaker ones."
But the healthiest people—emotionally and spiritually—are the ones who step aboard the center boat, Gratitude. Studies increasingly are showing that grateful people are happiest and healthiest. And when our deepest gratitude goes rightfully to God, we appreciate and empathize better with other people.
For four insightful Bible passages about thankfulness, click the link just below.