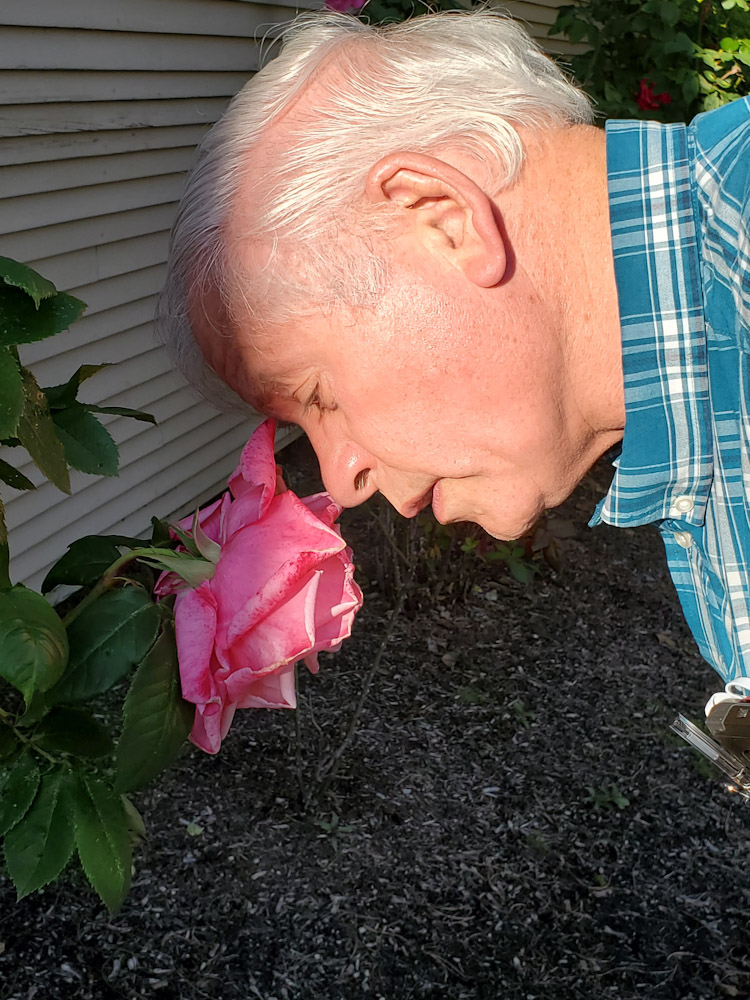 Photo and Commentary ©2021 by Shelley Schurch
Sunday, April 18, 2021
Let me explain. This man, nose to rose, is my husband. Whenever I call his attention to a flower, he courteously leans forward to sniff it, and then declares whether or not it has any detectable fragrance. In this case, it looks like his sniff might result in a sneeze.
The day that I'm writing this is Saturday, April 17, which I learned just this week is Husband Appreciation Day. (It is also National Haiku Poetry Day, National Cheeseball Day, and International Bat Appreciation Day.)
I'm happy to hear about this husband holiday, because I thoroughly appreciate my husband and want him to know it. He is one of the most unselfish and generous people I know, and God's great gift to me for almost 43 years of marriage.
I also appreciate him as my pastor, and it was with a heart spilling over with joy that I joined him and other church members today as our doors opened for the first time since the pandemic closed them. As I stood at the back of the sanctuary and soaked in this long-anticipated moment, I thought, This is the body of Christ, gathered in His name to worship Him.
That reminded me of another description of the church, as the bride of Christ. I think it was my new knowledge of this being Husband Appreciation Day that brought to mind Old Testament passages where God declared that His chosen people, linked to Him in covenant relationship, had turned away from His love, breaking the covenant and breaking His heart:
"Return, faithless people" declares the LORD, "for I am your husband." (Jeremiah 3:14 NIV)
For your Maker is your husband — the LORD Almighty is his name — the Holy One of Israel is your Redeemer; he is called the God of all the earth. (Isaiah 54:5 NKJV)
We leap ahead to the New Testament, to the back of the Book. Imagine the incredible sounds of this scene:
Then a voice came from the throne, saying, "Praise our God, all you His servants and those who fear Him, both small and great!"
And I heard, as it were, the voice of a great multitude, as the sound of many waters and as the sound of mighty thunderings, saying, "Alleluia! For the Lord God Omnipotent reigns! Let us be glad and rejoice and give Him glory, for the marriage of the Lamb has come, and His wife has made herself ready." (Revelation 19:5-7)
Ready . . . what a confident word, full of anticipation. And appreciation! As I honor my husband for his promise-keeping love, I honor our Heavenly Husband, covenant-keeping God, who's preparing a feast of rejoicing for us. May all our days be full of His full-throated praise, as we look forward to praising Him face to Face, forever and ever.
Amen!