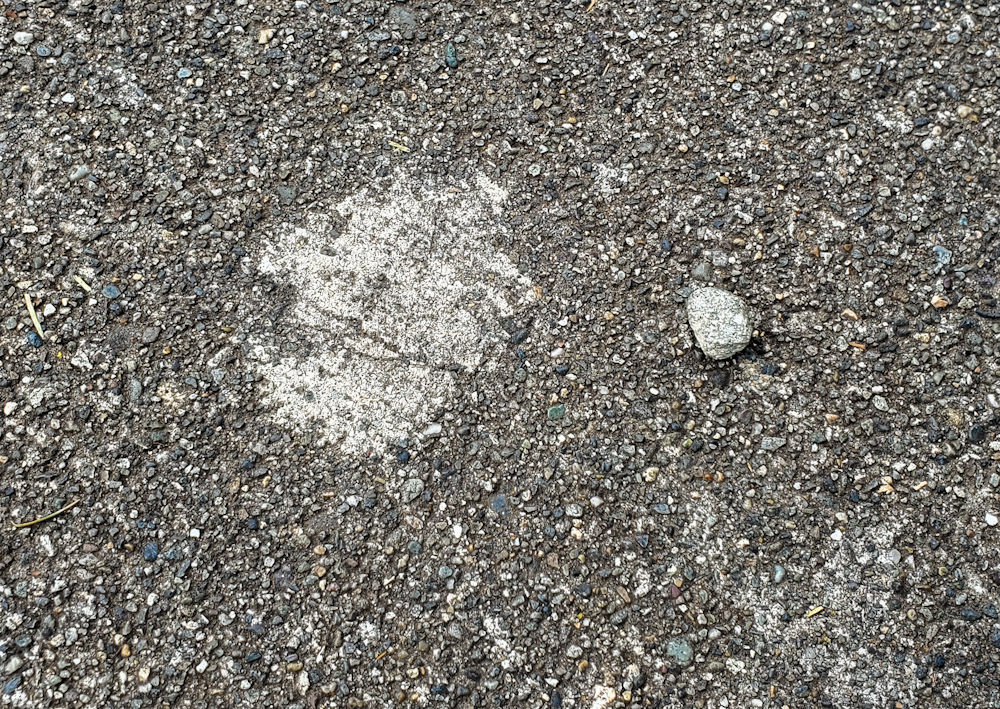 Photo and Commentary ©2021 by Maylan Schurch
Friday, April 16, 2021
Shelley and I have lived in our current neighborhood for 16 years now, and we often walk on the sidewalk above. And I nearly always notice this ancient splash of white paint, which to me looks like the head of a cartoon devil looking to the left. (Can you spot him? Large sharp nose, open mouth with sarcastic smile, the hint of devil horns to the upper right of his head?)
I've actually featured this demon paint-splash a couple of previous times in this blog over the years. I think one time I used the title "He's Fading," because the paint-mark has indeed become more weathered over time.
However, when I took the above shot earlier this month, there was a stone—exactly where you see it—as though aimed for the devil's head. I immediately thought of King Nebuchadnezzar's vision in Daniel chapter 2, where an entire metal statue, symbolizing world empires often infused with Satan's ideas and carrying out his plans, was finally destroyed by a stone from heaven.
Sadly, even though the devil's intents and purposes and actions are actually ratcheting up since he knows he has just a short time (Revelation 12:12), that divine boulder is cocked and loaded, and the devil will finally be destroyed.
The Bible doesn't obsess about the devil, but mentions him just enough so we can spot his deceptions and be encouraged by his final fate. To read some of those verses, click the link below.