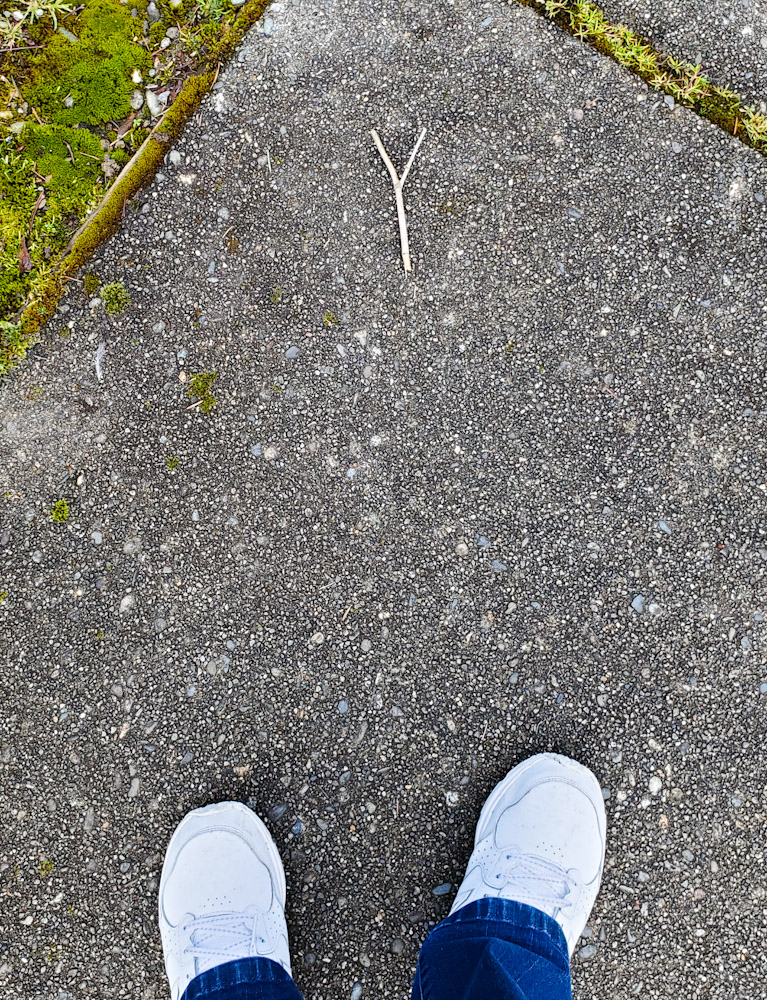 Photo and Commentary ©2021 by Shelley Schurch
Sunday, February 28, 2021
I didn't come to a fork in the road; it was a Y in the walk – the sidewalk. I like to take photos of any natural, unstaged alphabet letters I find outdoors, so I paused to capture this Y with a couple of photos.
This picture with my shoes shining white in the foreground was an impulsive shot I almost deleted, but then I reconsidered. This Y made me think of the question Why? – and that is a question that has often stopped me in my tracks, so the inclusion of my standing-still feet seemed appropriate.
Today is the birthday of a dear friend who died two years ago. A non-smoking, active, healthy-living woman, she died of double lung cancer. My Why still echoes in my brain. She was too young, too loving, too caring, too necessary to us who loved her.
In his latest book, Win the Day, Mark Batterson grieves the loss, way back in 1998, of his fifty-five year old father-in-law, who died of a heart attack. "He was in the prime of life, the prime of ministry." Not long after, Mark read Deuteronomy 29:29, which says, "The secret things belong to the Lord our God." That prompted him to create a Deuteronomy 29:29 file, which "consists of questions that won't get answered this side of eternity, and it's getting awfully thick."
I'm sure we all have similar files, that continue to grow as we walk our pilgrim pathways, which often wind through the valley of the shadow of death.
Job suffered under that shadow, crying out his Why to the God he continued to trust, despite his agony. My heart is wrung by his physical and emotional pain, and I am angered by his "miserable comforters" who with many pompous speeches explain to him that his suffering is obviously the result of his sin, and he must repent to find relief.
We know better because we have read the Book, and we see Satan accusing the Lord of protecting Job and blessing him – in other words, buying Job's trust and affection. The Lord allows Satan to bring disaster and pain upon Job, who has no knowledge of this back story yet holds onto his integrity, even as he laments and calls out for the Lord to vindicate him.
At last the Lord responds to Job, with a multitude of questions rather than the clear answers I would have preferred. But these questions seem to be sufficient answer for Job, as he admits that he has "uttered what I did not understand."
And so we, too, may not understand the Y of what happens to us and to others, but we can still hang on and trust the Lord as we trace His goodness and sacrificial love throughout the Bible and throughout our lives. When confronted with bad things happening to good people, I turn to Matthew 13:24-30, a parable Jesus told about a man sowing good seed in his field, but at night while all were asleep an enemy snuck in and sowed weeds. When the crop appeared, with the unexpected weeds, the sower was asked why. His answer: "An enemy has done this."
We call it The Great Controversy, the battle between God and Satan, between good and evil. As you walk into this brand new week, it's true that we inhabit a battlefield, but we remember that Jesus won the war on the cross, and equips us with His weapons described in Ephesians 6.
Onward, Christian soldier!