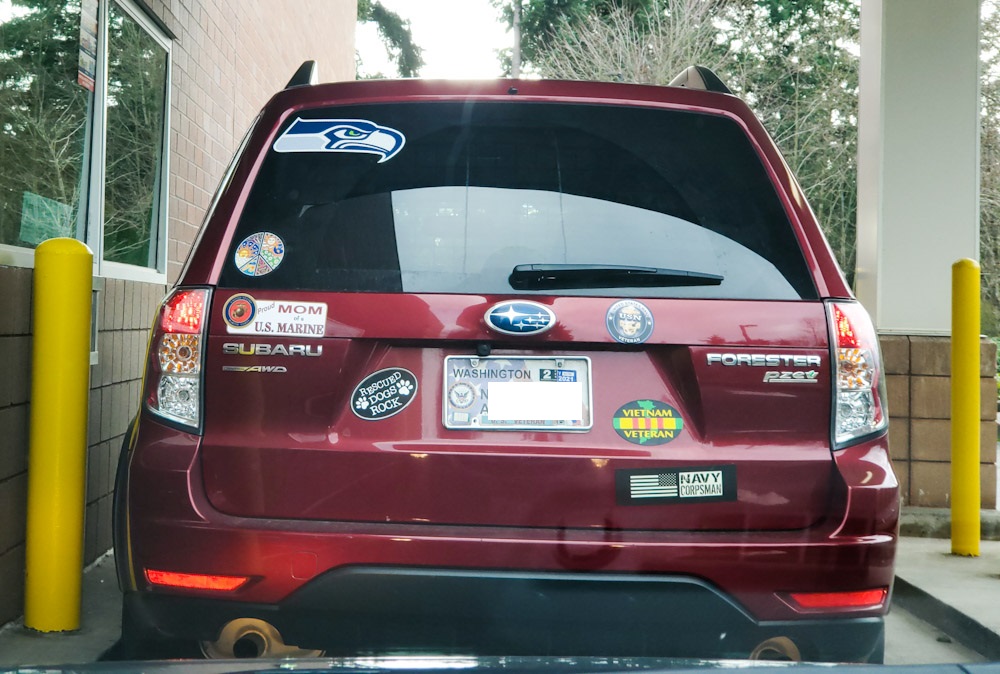 Photo and Commentary ©2021 by Maylan Schurch
Friday, January 22, 2021
I've mentioned in past Daily Photo Parables that I am a frank and outrageous hypocrite when it come to bumper stickers. I recoil in horror from ever applying any stickers to my own car, yet when I see someone else's car festooned with them—especially from a variety of sources—I muscle right up behind it and try to get the clearest possible photos. (And I try to remember, as I did above, to decently snip out the license plate numbers.)
Okay, get out those Sherlock Holmes hats and let's see what we can find out. Upper left—a huge, proud Seahawks logo. Below it is a circle which contains the Peace sign, plus designs which seem to be representations of the seasons. Taken with the license frame, which says "US Veteran," and adding to that the oval "Vietnam Veteran," we can sense that whoever attached these stickers is old enough to have served in Vietnam, but whose heart was probably with the peace demonstrators.,
Just above is a smaller sticker claiming that the occupant is a "USN (Navy) Veteran," and still lower, a "Navy Corpsman."
So here's someone who has a habit, through his or her stickers, of standing for various things. In the Bible, loyalty is important to apply to worthwhile subjects.
For two crucial texts about loyalty, so we know we're standing for the right things, click the link just below.