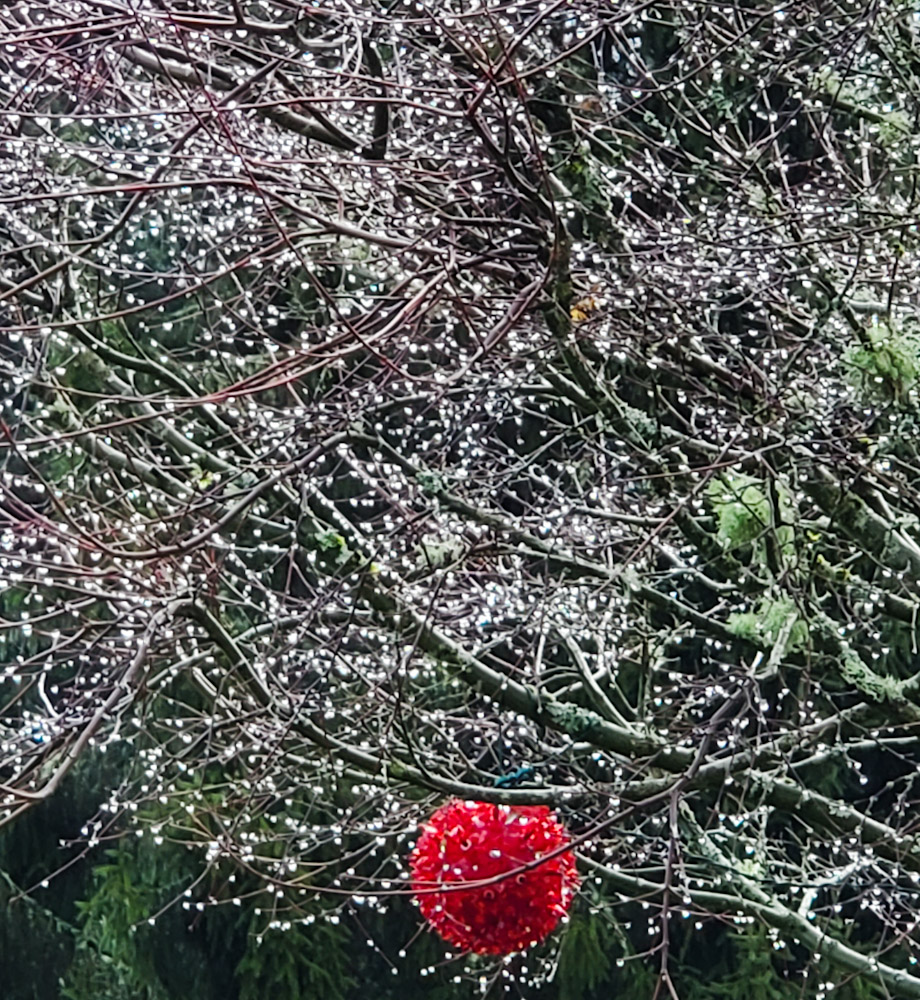 Photo and Commentary ©2021 by Shelley Schurch
Sunday, January 10, 2021
Beautiful, funny, traditional, and downright odd – house by house and yard by yard, they're all coming down to be packed away. I will miss them, all the lights and ornaments and various creatures that have populated our neighborhoods during the holidays: Santas, snowmen, reindeer, moose, unicorns, dinosaurs, snowflakes, the Grinch, stars, wreaths, Minions, Winnie-the-Pooh, angels, Snoopy, Seahawks, and – lest we forget, some nativity scenes with Baby Jesus.
On our daily walks we've had the chance to talk to a couple of people and thank them for their work in brightening us up these last few months. As they've paused in their labor of undoing, each one has said with a smile that they enjoy doing it. One man regaled us with several stories of mishaps he has had over the years with his seasonal decorating, including a fall from a ladder that resulted in broken ribs. But he talked enthusiastically about his plans to expand his tree and house lighting next year.
Next year. I'm already looking forward to it. But between now and then we won't be bereft of beauty. The photo above was taken on a beautiful blue-sky morning after recent rain. This tree was sparkling with thousands of droplets, lit by the sun. I had to stop and stare. Maybe a better word is "gaze" because it seems to hint that there is admiration in the looking.
I stopped and looked it up: According to the online Oxford English dictionary, "gaze" means to "look steadily and intently, especially in admiration, surprise, or thought."
Living close to home these last eleven months has been an invitation to gaze more, especially at God — to notice more intently His creation, to ponder more thoughtfully His Word, and to pay more attention to His working in my life.
There are so many worthy resolutions I could make for this new year, but now I'm thinking that near the top of my list is my desire to gaze more and praise more.