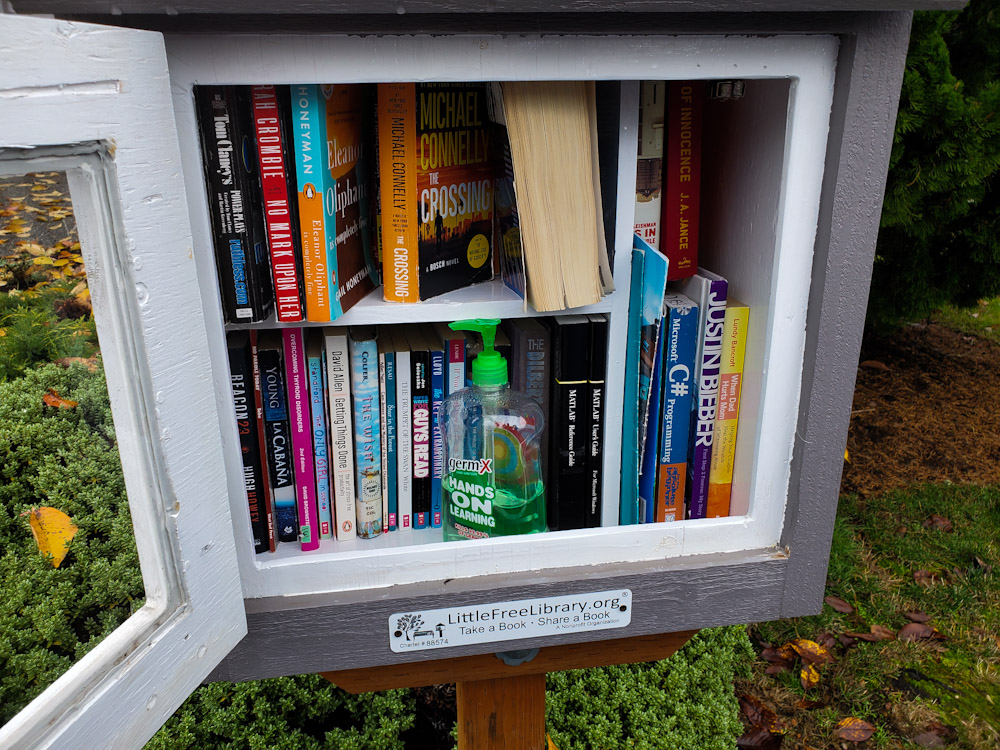 Photo and Commentary ©2020 by Maylan Schurch
Friday, November 27, 2020
On our neighborhood walks, Shelley and I often pause beside one of those little "free library" cabinets someone has put up. I hadn't realized until seeing this one that (at least with LittleFreeLibrary.org) you actually apply for a "charter number" before you can put it up. The number for this particular cabinet is in fine print under the logo on the little label.
The point of little libraries like this is that you can simply walk up to it, take a book, and walk away, no questions asked. Of course, if you're a conscientious reader—and most who visit this cabinet probably are—you'll eventually bring a book or two of your own to fill the absence.
This library offers a remarkably wide selection. There's a Tom Clancy at the left of the upper shelf, and a J. A. Jance mystery at the right. Below, you'll find a slim white paperback by David Allen, his immensely popular Getting Things Done. A few volumes to the right you'll see a book sternly titled Guys Read. Then come a couple of computer manuals, and a Justin Bieber to divert the mind.
Know what I've discovered? People who read widely are better able to handle stress, and less likely to be gripped by various kinds of paranoia. The more in touch we are with creative minds which approach us from different directions, the more relaxed our own mind becomes.
So read widely. And don't forget to include books of the Bible in your reading. Why not start a book-by-book Bible reading plan, putting a check-mark beside its name in the table of contents when you're finished with it? Alternate between small books and big books, history and prophecy, the Gospels and the letters to the churches. There's no "library" more mind-broadening than Scripture.
To learn or review what the Bible says about itself, here's a link: