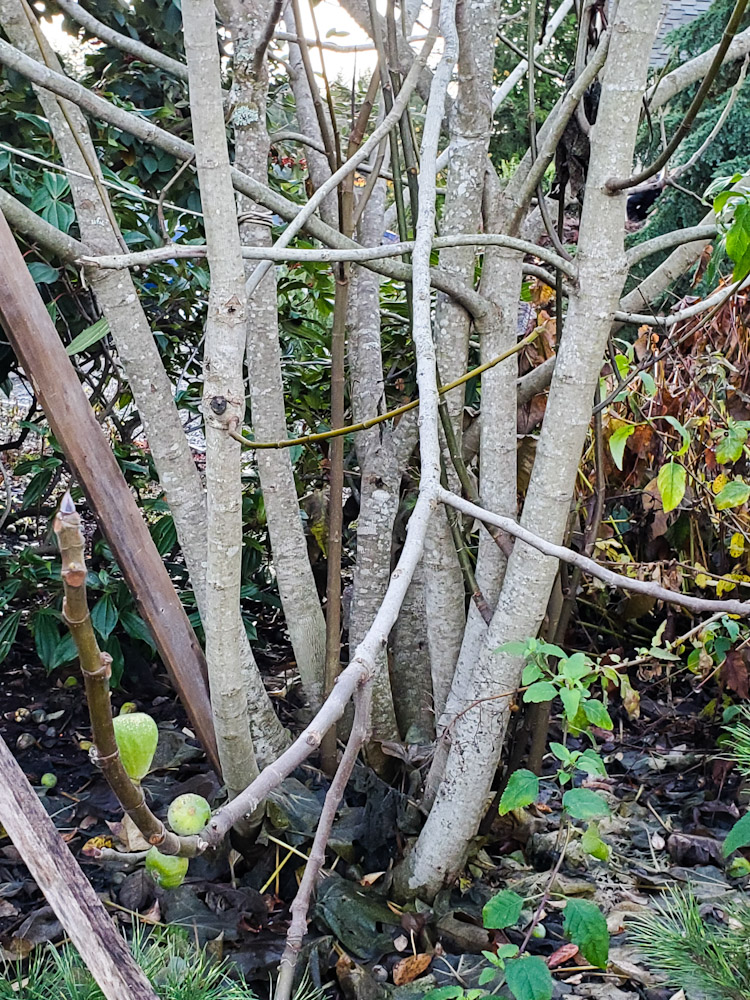 Photo and Commentary ©2020 by Shelley Schurch
Sunday, November 22, 2020
Staying closer to home these last nine months has helped us get better acquainted with our neighborhood. We've lived here for fifteen years, faithfully walking most mornings and some afternoons, yet we still stumble (figuratively speaking) on things we have not noticed before.
I spied one such surprise as we rounded the corner a couple blocks from home, a couple months ago, and stopped to admire the lush variety of growing things in all colors, shapes, and sizes. The tallest of the bushes and trees, close to the sidewalk, had big leaves, and it wasn't until I peered closer that I realized they were big fig leaves – the first fig tree I'd ever seen.
As we journeyed on I realized I was surprised because I had kept figs firmly planted in the Middle East, because I'd only encountered them in my Bible. We find them early on, in Genesis 3, after Adam and Eve sinned and suddenly felt shame and fear and covered themselves with fig leaves.
And there's the story in Matthew 21 when Jesus withers a fig tree. He found it in full leaf but figless. (In contrast, my photo above shows our neighbors' fig tree leafless this afternoon but with a few figs clinging on.) It was morning and He was hungry. He said, in the hearing of the disciples, "'Let no fruit grow on you ever again.' Immediately the fig tree withered away."
The disciples asked How – "How did the fig tree wither away so soon?" They had been with Jesus for over three years, had seen Him calm a ferocious storm with a word, feed thousands of people with five fish and two loaves of bread, raise Lazarus from four days dead, and they ask How?!! My question is Why – Why didn't Jesus shrug and walk away, content to find breakfast elsewhere? I have an idea, but I'll have to mull it over.
Because it's another Bible fig passage that's occupied my mind lately, one that challenges me and encourages me. I have read it over several times this week, in Habbakuk 3:17-19a:
Though the fig tree may not blossom,
Nor fruit be on the vines;
Though the labor of the olive may fail,
And the fields yield no food;
Though the flock may be cut off from the fold,
And there be no herd in the stalls—
Yet I will rejoice in the LORD,
I will joy in the God of my salvation.
The LORD God is my strength . . .
Habakkuk, one of God's faithful prophets who was not afraid to ask God questions, declares his "hymn of faith" in these words, as his brief book in the Bible comes to a close. He lived in a time of lack and loss, just as we are living in now.
Maybe we could write our own versions. We have the pattern:
Though the . . .
Though the . . .
Though the . . .
And there be no . . .
Yet I will . . .
I will . . .
The Lord God . . .
If you choose to write your own Habakkuk-style hymn of faith, and wouldn't mind sharing it, I would love to read it. Meanwhile, I'll get busy composing my own.
As you walk into this Thanksgiving week, may you joy in the God of your salvation!
Happy Thanksgiving and Rejoicing!
(You can respond to shelley.thanking@gmail.com)