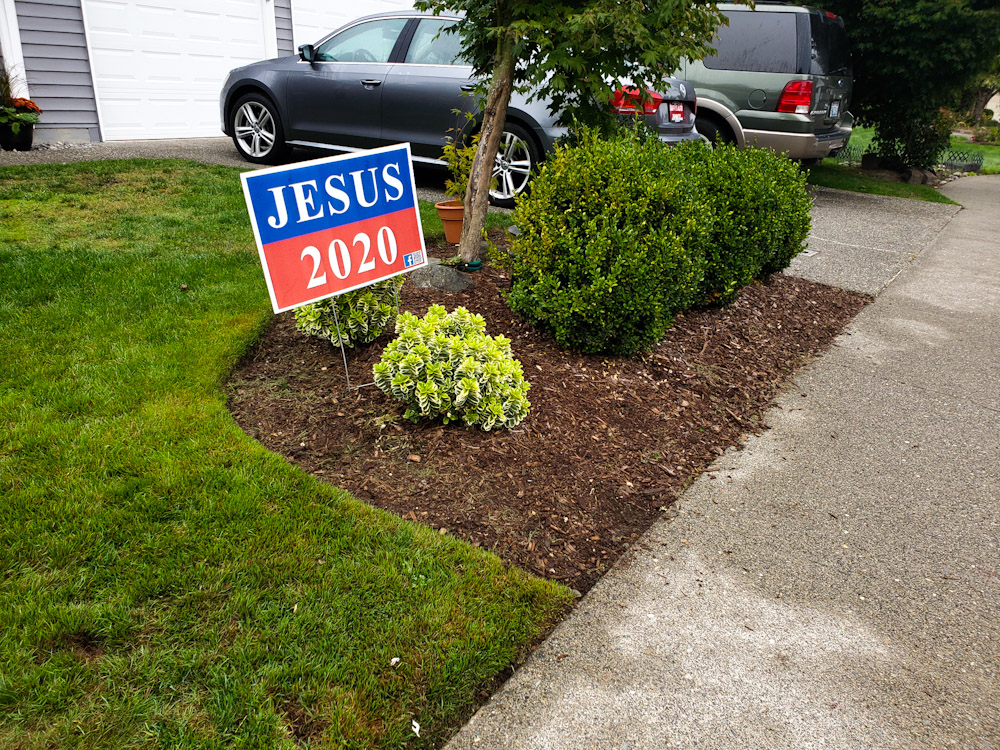 Photo and Commentary ©2020 by Maylan Schurch
Sabbath, October 24, 2020
The people in the neighborhood where Shelley and I live are very cautious about putting out political signs, especially this year when things are so divisive. But one family a few blocks away from us wasn't shy about publicizing the name of their ideal candidate!
What do you think? Would you vote for Jesus? Do you think He'd be qualified to fill the role? Well, we're going to get a chance to find out—and it shouldn't be too much longer.
Now I saw heaven opened, and behold, a white horse. And He who sat on him was called Faithful and True, and in righteousness He judges and makes war. His eyes were like a flame of fire, and on His head were many crowns. He had a name written that no one knew except Himself. He was clothed with a robe dipped in blood, and His name is called The Word of God. And the armies in heaven, clothed in fine linen, white and clean, followed Him on white horses. Now out of His mouth goes a sharp sword, that with it He should strike the nations. And He Himself will rule them with a rod of iron. He Himself treads the winepress of the fierceness and wrath of Almighty God. And He has on His robe and on His thigh a name written:
KING OF KINGS AND
LORD OF LORDS.
Revelation 19:11 – 16 NKJV
For more information on how to vote for Heaven's candidate, click the link just below:
https://www.bibleinfo.com/en/topics/salvation