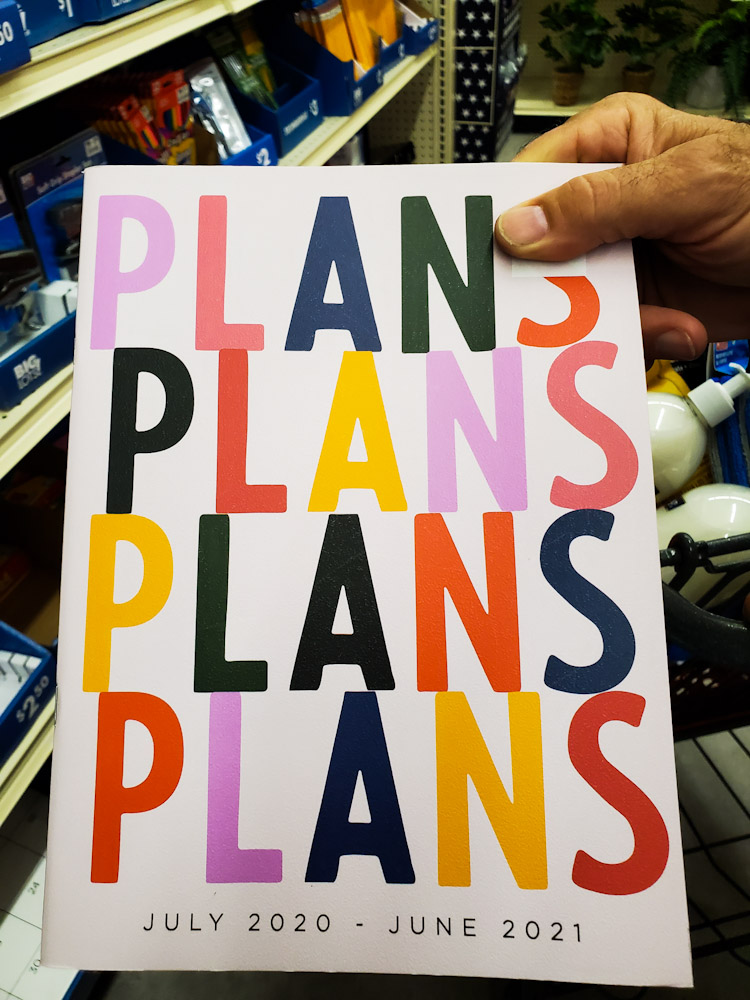 Photo and Commentary ©2020 by Shelley Schurch
Sunday, October 18, 2020
We saw this planner/calendar in a store recently and my immediate reaction was derisive laughter: "PLANS, PLANS, PLANS, PLANS" – Hah! No matter how large and colorful those letters, what good would it do me to make plans for the time frame specified, July 2020 – June 2021?
I remembered one of my coworkers telling me how many months ago she sat down with her 2020 planner and erased and erased and erased – conventions, family vacations, workshops, an overseas tour . . . if it involved gathering with people, or traveling any distance, it had been cancelled. Most of her erasing was done with a sigh; some with Kleenex.
What does the Bible say about plans? If you've been a Bible reader for some time, or someone who has spent time browsing in a Christian gift shop, I suspect this verse leaps to mind:
"For I know the plans I have for you," declares the LORD, "plans to prosper you and not to harm you, plans to give you hope and a future." (Jeremiah 29:11)
This verse is featured on all manner of Christian products, including mugs and bookmarks and water bottles and wall art and graduation cards. I've heard someone say that this verse is so popular that it's become this generation's John 3:16.
And that popularity really riles some people! They plead with us to consider the context of the verse before being so free with its distribution. I'm all in favor of context, so when I sat down and carefully read all of chapter 29 I discovered that it was a letter the prophet Jeremiah sent from Jerusalem to the Jewish people and their leaders who had been carried into exile from Jerusalem to Babylon.
The Lord is speaking in this letter, telling the exiles to settle there in Babylon – build houses, marry, raise families, and "seek the peace and prosperity of the city to which I have carried you into exile." I doubt this was what the homesick Jews wanted to hear – obviously there was no quick return to Jerusalem in the Lord's plans for them.
Then the Lord tells them that when seventy years are completed, He will keep His promise and come to them, and bring them back home. This prophecy and promise is immediately followed by verse 11, the words that have become beloved by so many.
Is it wrong to latch on to these verses, take them out of their original context and apply them to our 2020 individual lives, lives which long for comfort, a future, and hope?
Sometimes I am so firmly entrenched in an opinion that I can barely see any sense in an opposing view, but this time I can see why some caution against misappropriating Scripture, ignoring its original intent, and also why many gladly embrace this verse as a promise to cling to when our futures seem precarious at best.
I am not a Bible scholar nor theologian, but I humbly tiptoe into this debate to suggest that if I read the verse in context, and understand and grant its original intent, perhaps I can, in addition, also apply its meaning to my life – if doing so does not contradict other Scripture.
I immediately think of one of my favorite Bible verses, brimming with the same good news that Jeremiah 29:11 brings:
May the God of hope fill you with all joy and peace, so that you may overflow with hope, by the power of the Holy Spirit. (Romans 15:13)
He is the God of hope, and His Son Jesus risked everything to secure our future, so I believe the message of Jeremiah 29:11 can spill over into my life, reminding me that God is not out to harm me, but has done everything possible to give me an eternal future.
Keeping the importance of context in mind, let's read the two verses that follow Jeremiah 29:11:
Then you will call on Me and come and pray to Me, and I will listen to you. You will seek Me and find Me when you seek Me with all your heart.
I believe that I, like those Jewish exiles, am invited to call on the Lord, to come to Him in prayer, and He promises to listen to me, as He planned to listen to them. If I seek Him with all my heart, He promises I will find Him.
Call, come, pray, seek, find – now, that's a plan!