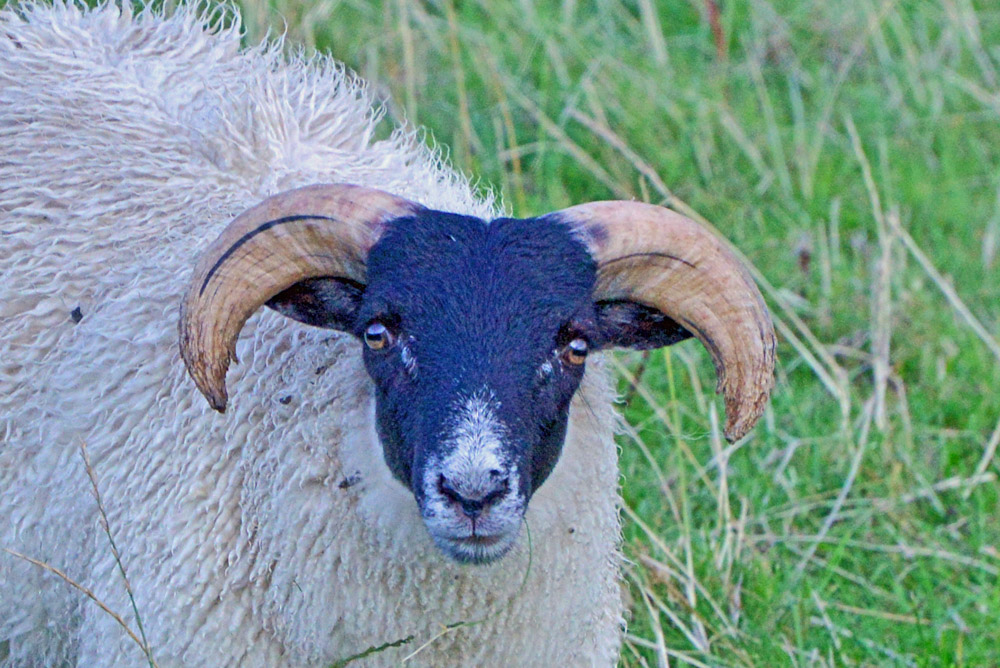 Photo and Commentary ©2020 by Robert Howson
Tuesday, September 22, 2020
Anyone who has spent any amount of time around animals knows that some are easier to read than others. While your pet pooch may wear his emotions on his face, the same would unlikely be said about any snakes you might have in your collection. That aside, Alexander Skutch made the following observation in The Minds of Birds: "We 'know' other creatures' mental states (such as pleasure, fear, concentration, sociability, playfulness, tenderness) only by intuition, inferring their psyches from our own." While this is undoubtedly true, I doubt that many animal lovers would agree with such a clinical evaluation. To them, the emotions expressed by their furry friends are real, not just projections of the observer.
For the sake of argument, let's go with the "warm and fuzzy" approach to this issue and focus on this Blackface Mountain Sheep for a moment. I'm not on a first name basis with this sheep, in fact I'm only assuming I have the right breed down since the Blackface is a common inhabitant of Northern Ireland where its portrait was taken. In spite of this, I can't help but feel some sort of connection, some personal link between this producer of wool and mutton and myself. Perhaps it's because I'm at least superficially aware of the sacrificial system set forth in the Old Testament. I've never personally sacrificed a sheep or anything else for that matter, but I can, at least to a degree, imagine being in that situation where I was asked to kill, and sacrifice an animal.
My rational self interprets the look on the face of this animal as one of curiosity, or perhaps an assessment of whether its present situation warranted increasing the distance between the two of us. On the other hand, my emotional side formulates the question "Why me?" proposed by a prospective sacrifice. Since I know little of animal husbandry, I am permitted to propose such foolish questions. But the One to whom these sacrifices pointed was not allowed such detachment. He undoubtedly asked such a question and provided for Himself the needed answer, that He was the only one who could make such a sacrifice. I feel like a fool standing in the pasture and pondering such questions, but a grateful fool that the question was answered.