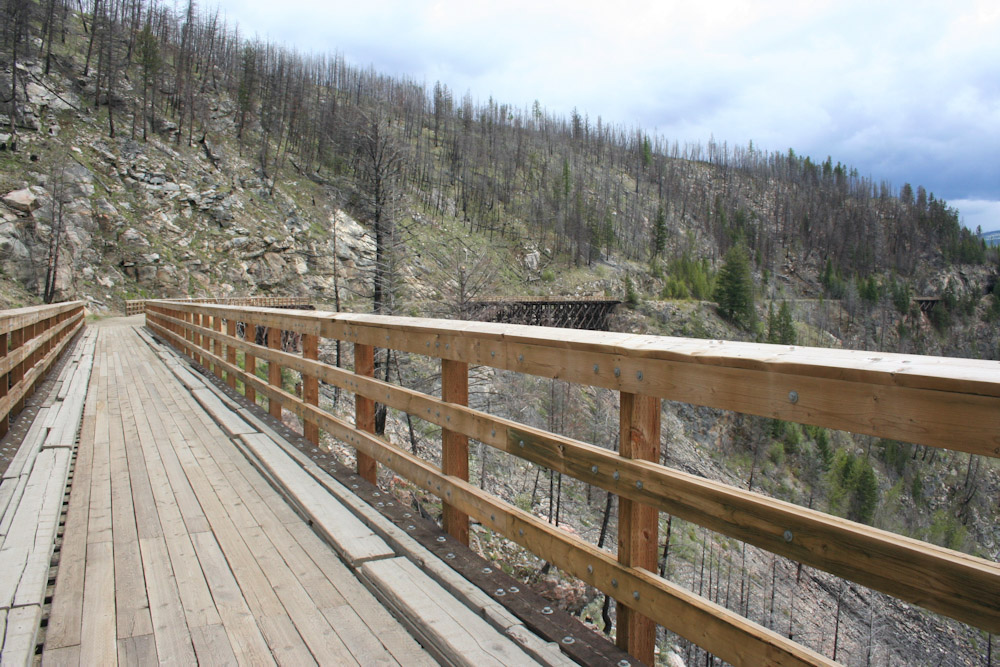 Photo and Commentary ©2020 by Cheryl Boardman
Monday, September 14, 2020
This photo is of some rebuilt trestles on the Kettle Valley Rail Trail in Myra Canyon in British Columbia. A lightning caused wildfire came through here in mid August of 2003. You can probably relate if you currently live or have lived in the western US or Canada. As I write this, my air quality is hazardous even though I'm nowhere near the fires and not at risk of losing my life or home or possessions. Visibility is not good.
The 2003 wildfire burned for almost a month. 270 houses were lost and 26,000 hectares of forest and parkland were burned. More than 33,000 people were evacuated including my sister and her family.
In this park alone, 12 wooden trestles burned and two steel bridges were damaged. It took five years to get the trestles rebuilt. The year it was completed, 2008, 54,000 people visited the canyon. It's a very popular hiking and biking trail with tunnels and beautiful views. The views were completely altered after the fire.
It seems at the moment that we are just having disasters piling one on top of the other. Remember that you do have somewhere to turn to help you get through this:
You are my hiding place;
You shall preserve me from trouble;
You shall surround me with songs of deliverance. Selah
Psalm 32:7 (NKJV)
If you want to hear a great song based on this verse, you can check out "You Are My Hiding Place" by Selah on Youtube.