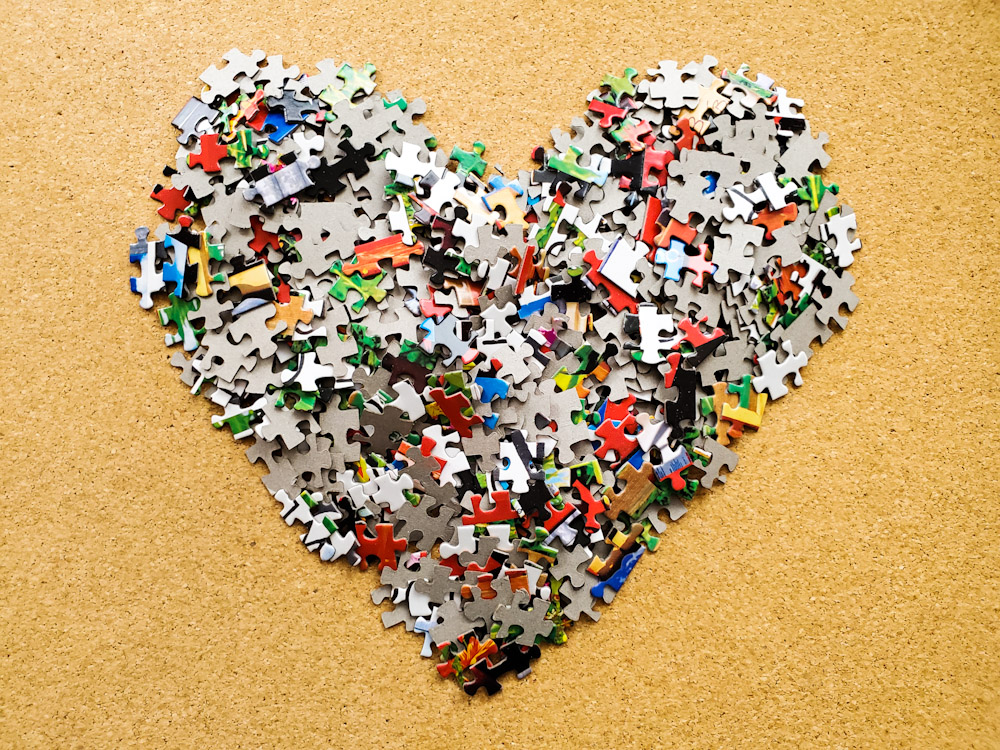 Photo and Commentary ©2020 by Shelley Schurch
Sunday, September 13, 2020
I suppose we should have seen this coming – or seen them going. When the pandemic was in its first stages, and stay-home orders were tightest, there was such a run on jigsaw puzzles that inventories were depleted, and have yet to fully recover.
As a longtime enthusiast, I was not surprised by this pandemic puzzle popularity. Puzzles can be solo endeavors or family put-togethers. They come in all shapes and sizes and designs. I walk right on by the type of puzzle that features a polar bear in a blizzard, or one black jellybean in a sea of red jellybeans. My criteria are firm: puzzles should be relaxing and fun.
In the midst of all the grim coronavirus news and chaos, it was soothing to open a box of puzzle pieces and make order. I follow my father's teaching: first, put together the outer edges until you have the frame in place. Then, consulting the picture on the lid as necessary, start filling in the interior.
The procedure I follow when I complete the puzzle is my own: after a sigh of satisfaction, I take a photo of the accomplishment and then take it apart.
When I had followed that procedure on the puzzle in the photo above, and was rounding up the pieces in order to put them back in the box, I realized they were almost in a heart-shaped mound. So I worked with them a bit until they fully formed a heart, then took another photo.
As I did, I thought how fitting this shape was, because hearts are often puzzles. We often have heart trouble. I'm thinking of David. When God directed the prophet Samuel to anoint David as the next king, He called him a man after His own heart. Yet we know that David did not always live up to that amazing description, and his failures are in the Bible for all to see.
More than failures, some were sins that rocked the nation and his personal world, especially when he committed adultery and murder. In Psalm 51 he pours out his confession and repentance and begs God to "Create in me a clean heart, O God, and renew a steadfast spirit within me."
In Psalm 139 David describes how intimately God knows us, from before our birth, and concludes with this request, "Search me, O God, and know my heart; try me, and know my anxieties; and see if there is any wicked way in me, and lead me in the way everlasting."
In times of trouble many of us find comfort in reading the psalms, in praying the prayers David prayed as he poured out his heart to his God. In Psalm 31:24 he gives encouragement that I take to heart: "Be of good courage, and He shall strengthen your heart, all you who hope in the Lord."
No matter what troubles or puzzles us this week, we can bring it to the Lord, knowing that He who fashioned our hearts will steady them and strengthen them.
Be of good courage as you walk into this week, knowing Who walks beside you.