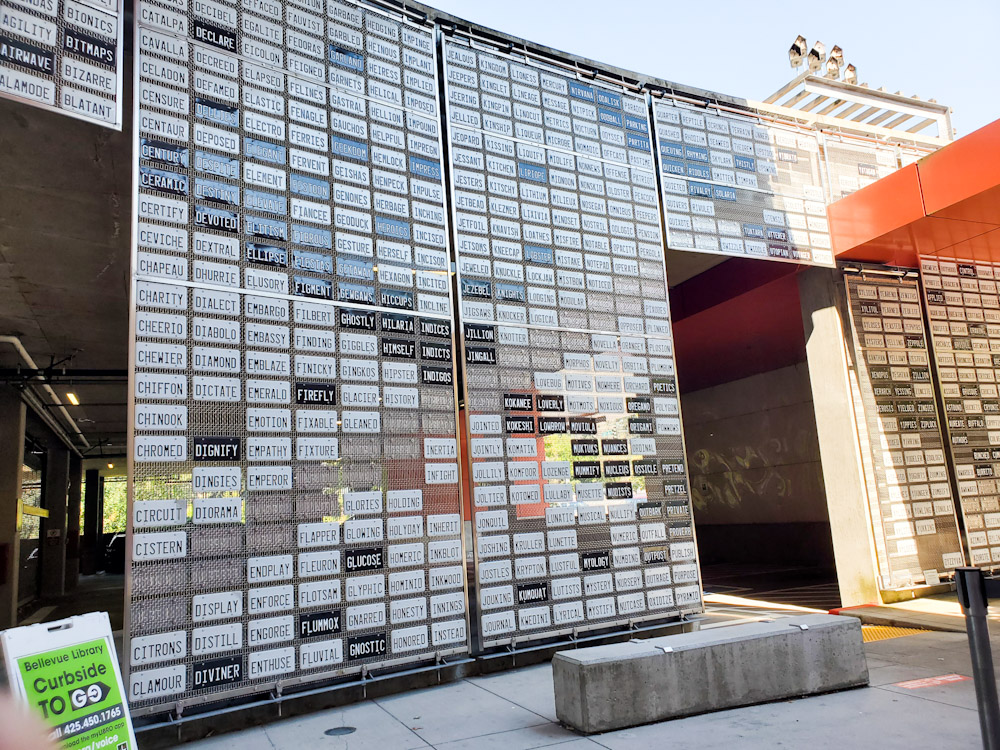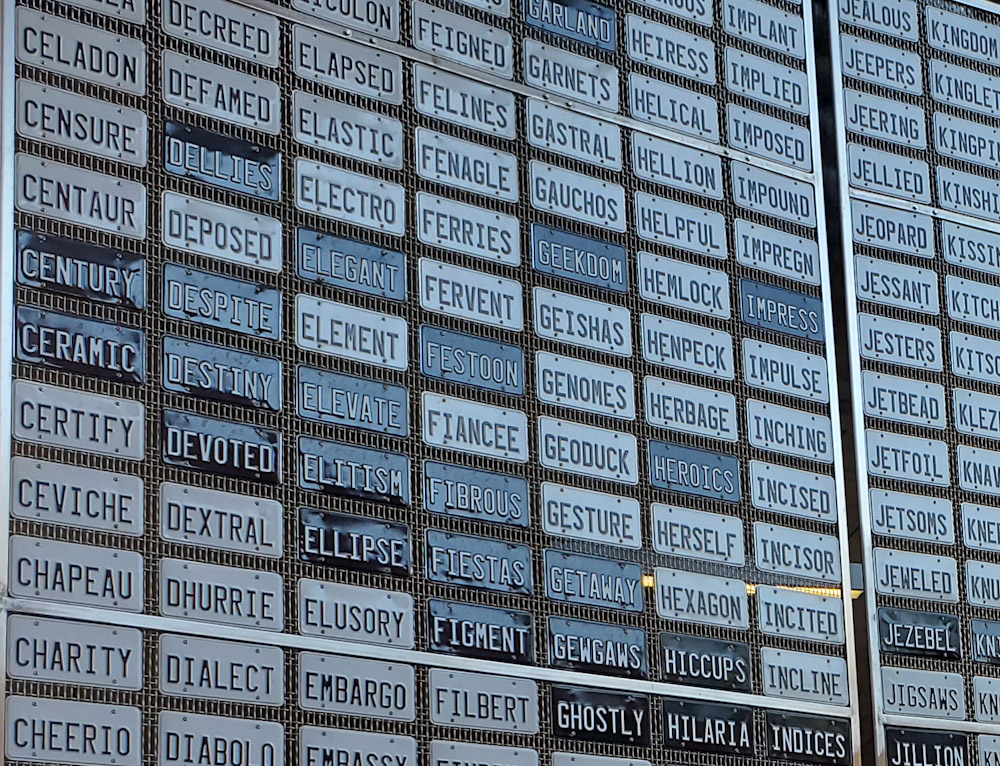 Photo and Commentary ©2020 by Maylan Schurch
Sabbath, September 12, 2020
Because of the pandemic, our King County Libraries have a plan in which you can check out books online, and pick them up by standing in a line by the library doors. I took advantage of this plan earlier this week, picking up a historical documentary DVD at the Bellevue library. While I was waiting, I studied this outdoor art installation I later learned is called "Vernacular" (you can learn a bit more about it by scrolling down several screens at the link I provide below).
I don't know whether each of these words has actually shown up on real "vanity" license plates. Maybe several have. However, because they're so uniform, and have no other data such as the state they're from, I'm assuming these plates were stamped out for this art project.
At first glance, I thought, Cute. Public art. That's neat. Took an incredible amount of trouble, but worth it.
But then I found myself almost spellbound. To me, the power in this display happens because each of these seven-letter words is mounted by itself. It's separate from any phrase or sentence, and as a result, you're forced to give it your entire attention for a second or two. Try it. It's a lesson in how important and evocative words can be.
Yesterday's Daily Photo Parable also insisted that words are important, and how we use them—and where we disperse them—need to be carefully considered. But as I look at the photos above, I'm reminded that John's gospel (John 1:1 – 3) introduces Jesus as "the Word." Each metal-embossed word in the photos above communicates something. And Jesus arrived to communicate what the word "God" means. "He who has seen Me has seen the Father," He told His disciples in John 14:9.
And why would Jesus need to reveal who God is? We can use some of the license-plate words in the enlarged photo above to explain. Satan has devoted his efforts to defame God, told hold up Divinity to our censure. He wants God deposed from His throne, so that as few as possible will be devoted to Him. (And you can go through several other words and apply them to this idea as well.)
Of course, the most dependable view of God is found in the Bible, focused through the lens of Jesus. To learn more about what the Bible says about God, click the link just below.
https://www.bibleinfo.com/en/topics/god
Now, here's the link about the art display. (You'll need to scroll down a bit once you get to the site.)