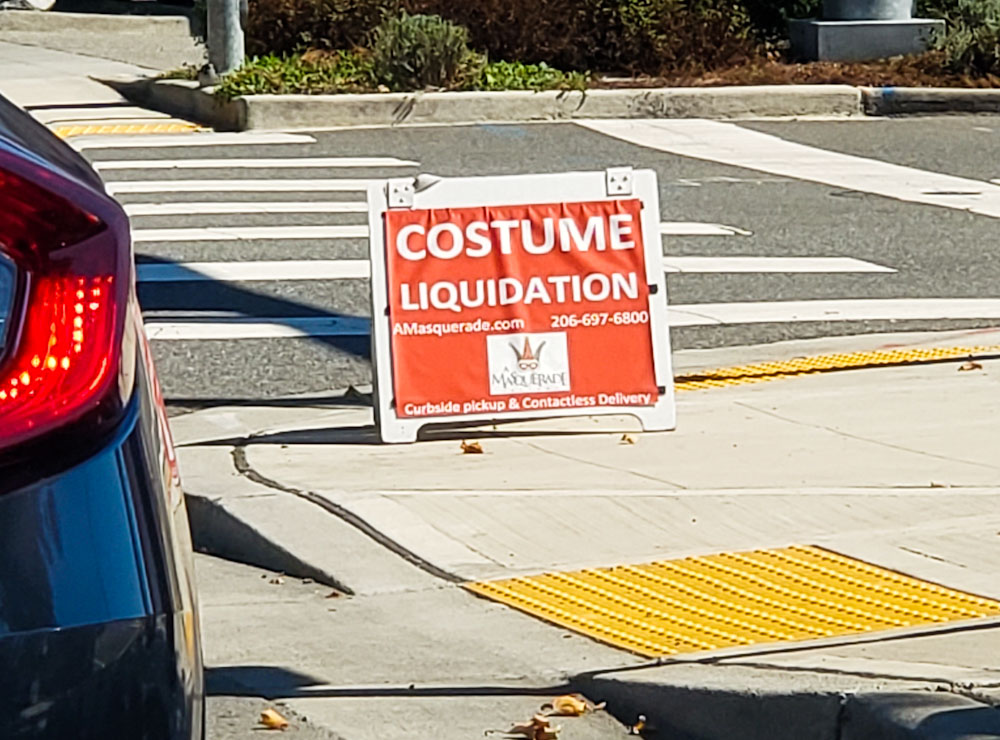 Photo and Commentary ©2020 by Maylan Schurch
Sunday, August 30, 2020
I couldn't resist snapping a photo of this sandwich-board sign I spotted while waiting at an intersection a week or so ago. It's for a Redmond costume shop, which seems to be having a major sale, maybe even a total liquidation as the sign indicates.
What kind of "costume" do you wear? When I was a kid, some of my friends' parents wore an "I'm really rich" costume. In other words, they dressed and bought houses and drove cars which made them appear wealthy, when they'd simply gone into debt to do so. Have you ever known someone who wore a "I know everything, and I'm always right" costume? How about people sporting a "holier than thou" costume? And tattoos? (Not even goin' there.)
I could go on and on, of course, and you probably could too. But one day—sooner rather than later—the Lord will return, and will welcome to His eternal glory those who are wearing the costume that really matters—the robe of His righteousness. Because all other costumes will be liquidated.
How do we get this robe? It's a gift of God to those who surrender their hearts and lives to Him. Isaiah writes: "I will greatly rejoice in the LORD, My soul shall be joyful in my God; For He has clothed me with the garments of salvation, He has covered me with the robe of righteousness."
For four more Bible passages about righteousness and how we obtain it, click the link just below: