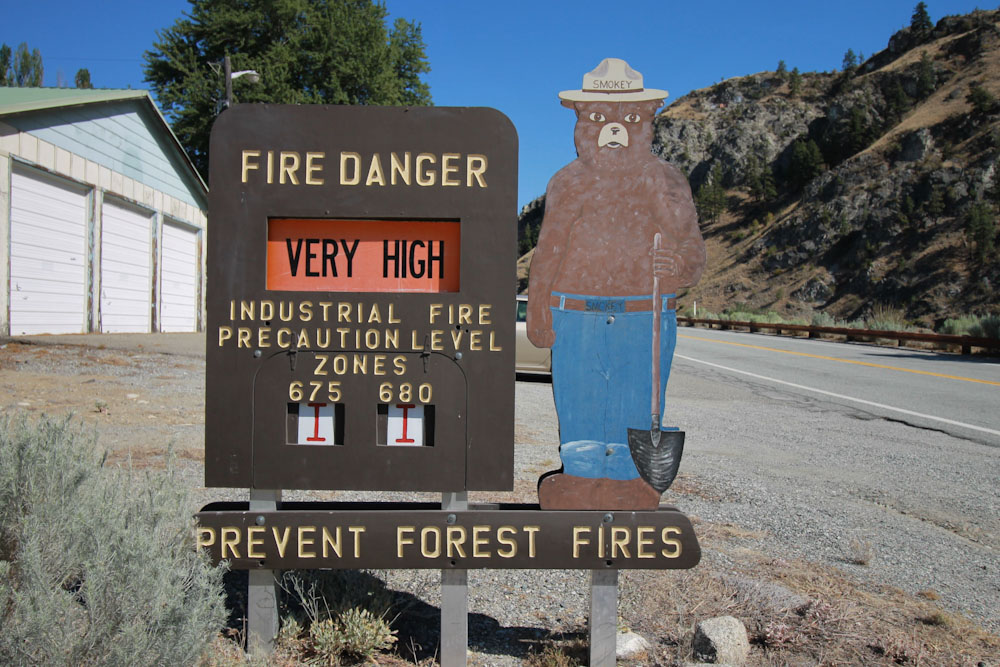 Photo and Commentary ©2020 by Cheryl Boardman
Monday, August 3, 2020
I did a bit of exploring recently and drove up the Entiat River Road about 30 miles. As per the name, the road follows the river and heads west from where the Entiat River empties into the Columbia (dammed at that point to create a reservoir called Lake Entiat) and goes past orchards and houses initially but then for about the last third, you are in the Okanogan-Wenatchee National Forest.
The valley is between the Entiat Mountains and the Chelan Mountains. In the forest, there are numerous places to camp and a lot of trailheads that are accessed from this road or side roads heading off of this road.
The warning sign appears soon after you start heading up the valley. I had heard about this road but had not been there before and it's very scenic although this time of year things were quite dry. There are places to get good views of the river and it's definitely somewhere to go back to when the wildflowers are blooming..
The road was even paved up to where I turned around and at that point, half of the pavement looked to be washed away. As I don't have a high clearance vehicle, I decided that would be my turnaround point!
The paved way in is basically out and back. I did pass a gravel forest service road that you could take to get to Chelan. I didn't go on it but I presume it is well maintained because if there is a forest fire in the middle of the valley, people would need a way to escape.
While the warning sign doesn't say that you should avoid heading up the valley, it does alert you to the fact that you need to be careful and to be aware that other people who may not be as careful could discard a cigarette improperly or start a campfire which could easily cause a fire that could get out of hand.
You need to know where your escape routes are and be prepared to use them.
The Bible tells us:
A wise person will learn more from a warning
than a fool will learn from a hundred lashings.
Proverbs 17:10 (NCV)