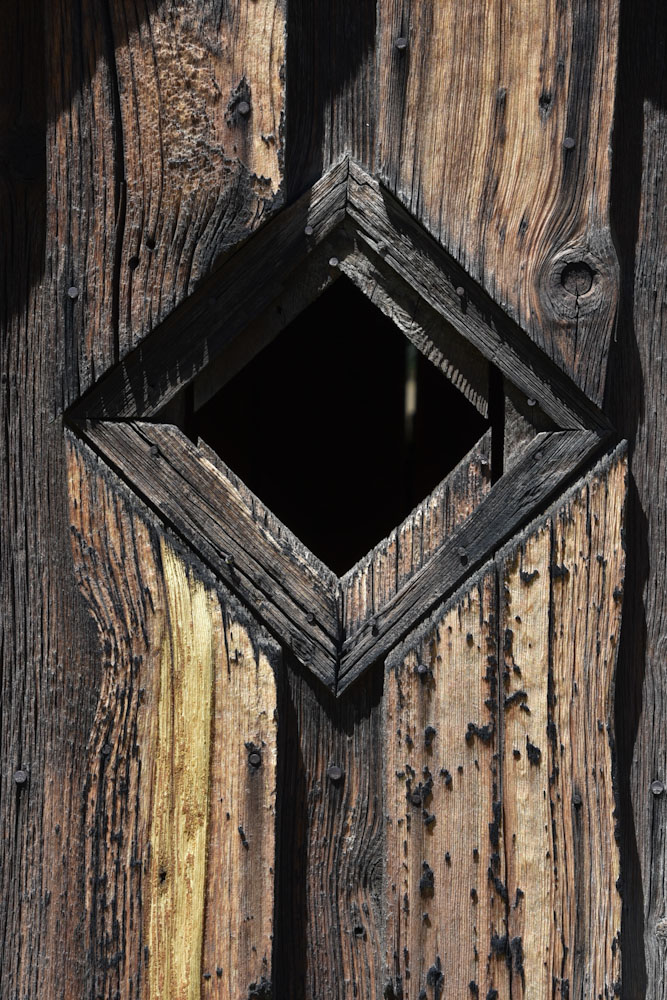 Photo and Commentary ©2020 by Darren Milam
Wednesday, July 29, 2020
A few weeks back, when we were on a small road trip, we visited an old mining (ghost) town in the mountains outside of Missoula, MT. This particular town is known as the Garnet Ghost Town. As you can read (if you choose to do so) the town is well over 100 years old, yet still well preserved. This particular image is part of a door I found on one of the cabins we were able to walk in and around. What caught my eye was the coloring and texture of the wood.
When I was framing – in my camera's viewfinder – the image, I thought of Jesus' guidance for us to knock on the doors we face. In fact He tells us when we do knock, it will be opened.
Matthew 7:7-12 reads, "Ask, and it will be given to you; seek, and you will find; knock, and it will be opened to you. For everyone who asks receives, and he who seeks finds, and to him who knocks it will be opened. Or what man is there among you who, if his son asks for bread, will give him a stone? Or if he asks for a fish, will he give him a serpent? If you then, being evil, know how to give good gifts to your children, how much more will your Father who is in heaven give good things to those who ask Him! Therefore, whatever you want men to do to you, do also to them, for this is the Law and the Prophets."
The account in Matthew is the traditional "knock, and it will be opened to you." In reading the other disciples accounts, I really appreciate Luke's verbiage and specifically the NLT translation (starting with verse 5):
Then, teaching them more about prayer, he used this story: "Suppose you went to a friend's house at midnight, wanting to borrow three loaves of bread. You say to him, 'A friend of mine has just arrived for a visit, and I have nothing for him to eat.' And suppose he calls out from his bedroom, 'Don't bother me. The door is locked for the night, and my family and I are all in bed. I can't help you.' But I tell you this—though he won't do it for friendship's sake, if you keep knocking long enough, he will get up and give you whatever you need because of your shameless persistence. And so I tell you, keep on asking, and you will receive what you ask for. Keep on seeking, and you will find. Keep on knocking, and the door will be opened to you. For everyone who asks, receives. Everyone who seeks, finds. And to everyone who knocks, the door will be opened.
The biggest reason I enjoy this specific account and translation is the focus on persistence. What this text tells me – I'm allowed to keep knocking until I get an answer. Of course we have to be careful in the interpretation, as this doesn't mean, if we don't like the answer we receive, we can continue to knock until we get what we want. No, the parable is about God and how much better He is than a friend, too tired and doesn't want to help us. Instead, God is there for us. He is listening. As long as we continue to knock, He WILL answer.
When I look at this door from the Garnet Mining camp, I can only imagine how many times someone has knocked on it. When I examined the hinges on the door, it's very clear the door had been open several times too. Allow this to be a lesson for all of us – continue to knock and listen for God's answers.