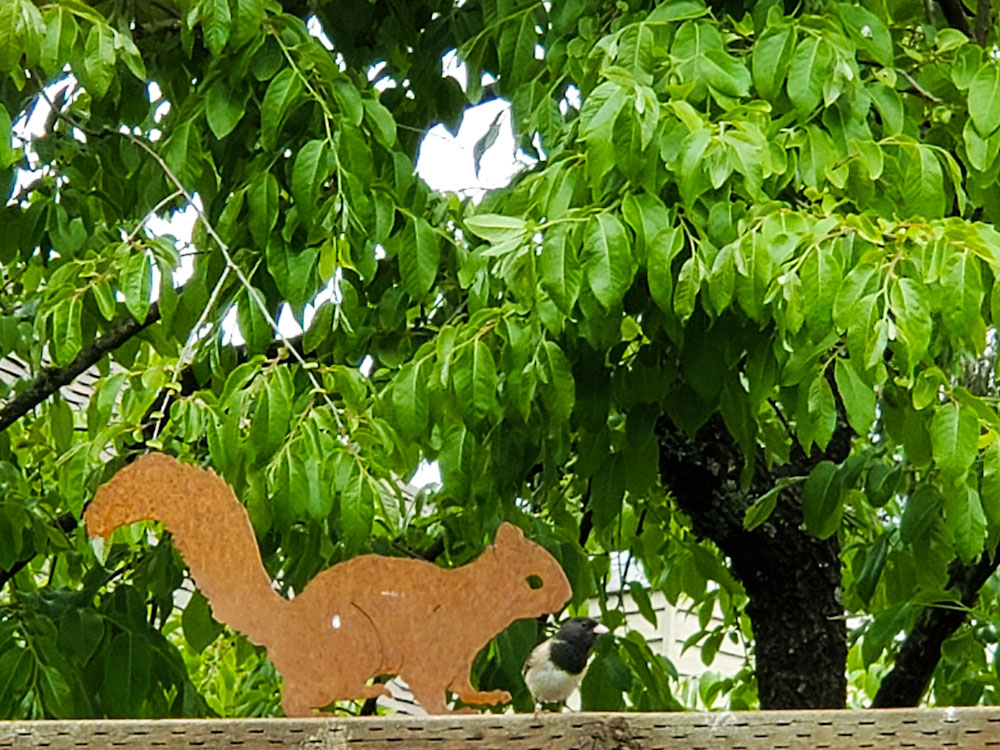 Photo and Commentary ©2020 by Shelley Schurch
Sunday, July 26, 2020
This is not the photo I've been wanting and waiting for. But I still like it – the rusty metal squirrel and the real-live bird, in such close proximity, both looking to the right.
What I've been wanting and waiting for is for the real living and breathing resident red squirrel, who often perches on this neighbors' fence, to cooperate and pose for me, facing the rusty squirrel close-up.
But no. Instead, the squirrel always sits on his haunches, about twenty feet to the left of where I would like him to be, usually nibbling on food he holds in his paws, while he stares at me.
I've encouraged him with word and gesture, and with little squirrel sounds, taking several steps to the right as an invitation and suggestion. So far I've only provided mealtime entertainment for this squirrel, but I've not given up. I've even chosen a title for this future photo, if it ever happens: "The Rusty and the Real."
Believe it or not, this makes me think of Moses. During our Sabbath morning Bible study classes, one of our members would sometimes remind us of "type and antitype." One definition of this is, "a figure in the Old Testament having a counterpart in the New Testament."
He explained that Moses was a type of Jesus, a foreshadowing of our Saviour. I've read a list one scholar compiled of seventy ways that Moses and Jesus are similar, including their lives threatened while infants, their renouncing lives of power and position and glory in order to suffer with God's people and live out their missions in humble submission to His leading, and their deliverance of God's people from slavery to freedom.
Moses isn't the only Old Testament person to foreshadow the Saviour yet to come, and recognizing the others, such as Joseph and Jonah, can provide a fascinating Bible study.
What a gift God has given us in His Word, a book translated into almost 700 languages that we can easily purchase, hold in our hands, read for ourselves. And then the gift of the Holy Spirit, to interpret the Bible for us so that it becomes both our heart and head language, and the lens through which we view our world.
When I daily walk by my rusty won't-ever-move squirrel, and my real could-move-if-he-wanted-to squirrel, I think of Moses, and Jesus, and how God has given us symbols and stories to make His Word come alive for us, to be our reality.
And one of these days, The Day will come, and Jesus will come. He will return to this planet where He poured out His tears in Gethsemane and His blood on Calvary, all for love of us. It doesn't get more real than that.