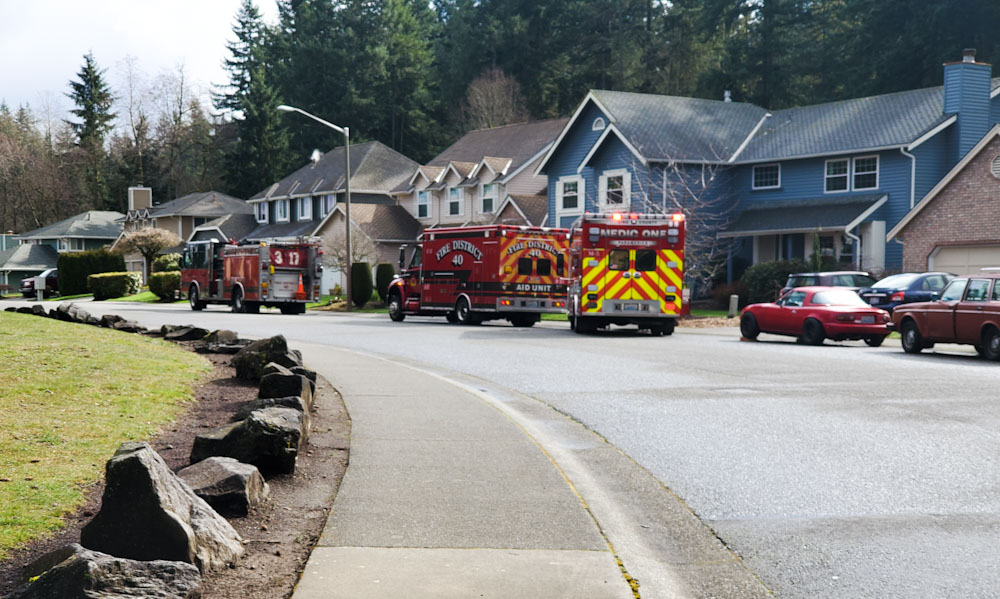 Photo and Commentary ©2020 by Maylan Schurch
Friday and Sabbath, July 3 and 4, 2020
On a major street a half-mile from our neighborhood is a fire station with three "bays" (garages). Shelley and I drive that street often, and have fallen into the habit of glancing through the glass-windowed doors of those bays as we pass, to see how many of the trucks are out. (Normally there are two large fire trucks plus one aid car connected with the station.) When one or more is gone, Shelley sometimes prays aloud, right then, for whatever situation called them out.
Back in early March, as Shelley and I turned out of our cul-de-sac on a walk, we saw what you see above—all three of those fire units, including the aid car, parked along the street, ministering to a situation, probably in  the blue house.
We paused for a few minutes and watched the scene, but saw no scurrying firefighters wrestling with hoses, and no evidence that the blue house or any other dwelling had suffered fire. We finally concluded that someone must have suffered a medical emergency such as a heart attack, and that one phone call had caused those bay garage doors to roll up and disgorge this trinity of helpers.
Speaking of the Trinity, the better acquainted you become with your Bible, the more you realize that God the Father, God the Son, and God the Holy Spirit have been powerfully united in coming to our aid throughout human history.
I believe that during this pandemic crisis, it is helpful to review just how much Heaven cares for us, and how powerfully it can intervene when we call. For several Bible passages which describe Their work, click the link just below.