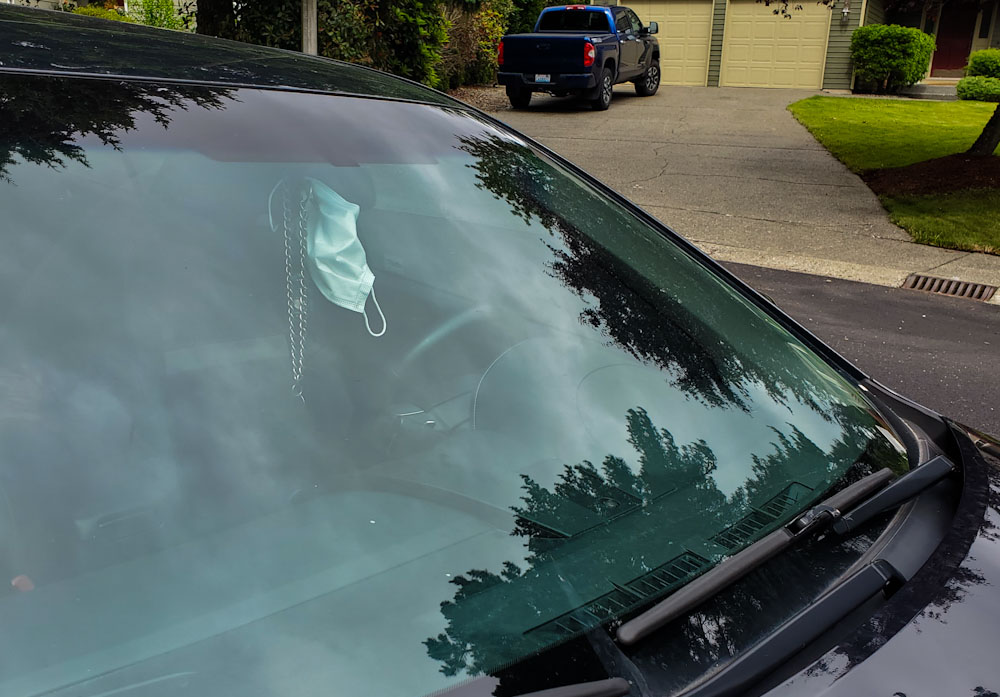 Photo and Commentary ©2020 by Maylan Schurch
Friday and Sabbath, June 26 and 27, 2020
The times, they are a-changin', right? When I was a college student, what you hung from your car's rearview mirror were a couple of three-inch-square fuzzy dice. Or if you were the more mystical type, you might opt for a Native American "dream catcher." The dice were, presumably, for luck, and the dream catcher was to serve to enable you to perceive and realize your life's ambitions.
Nowadays, in many, many parked cars, I see what you see in the photo above—a mask. (And Friday of this week, masks are mandatory in many situations throughout Washington State.) Since COVID-19 is what I've heard described as a "droplet-spread" virus, the main thing is to neither emit nor inhale droplets.
So here we have a very practical device. Wear it faithfully when near people, and wash your hands vigorously several times a day, and you've got a far better chance of safety than with the dice or the little woven net.
I don't think I've ever seen a little Bible hanging from a mirror, but there's lots of evidence that it too will take you safely and sensibly through any number of spiritual and moral crises. Here are a couple of examples, and you'll find more in the link below:
Does the world seem dark? Your word is a lamp to my feet and a light to my path. (Psalm 119:105)
Do you feel hopeless? For whatever things were written before were written for our learning, that we through the patience and comfort of the Scriptures might have hope. (Romans 15:4)
Here's the link to a more complete listing of what the Bible says about itself.