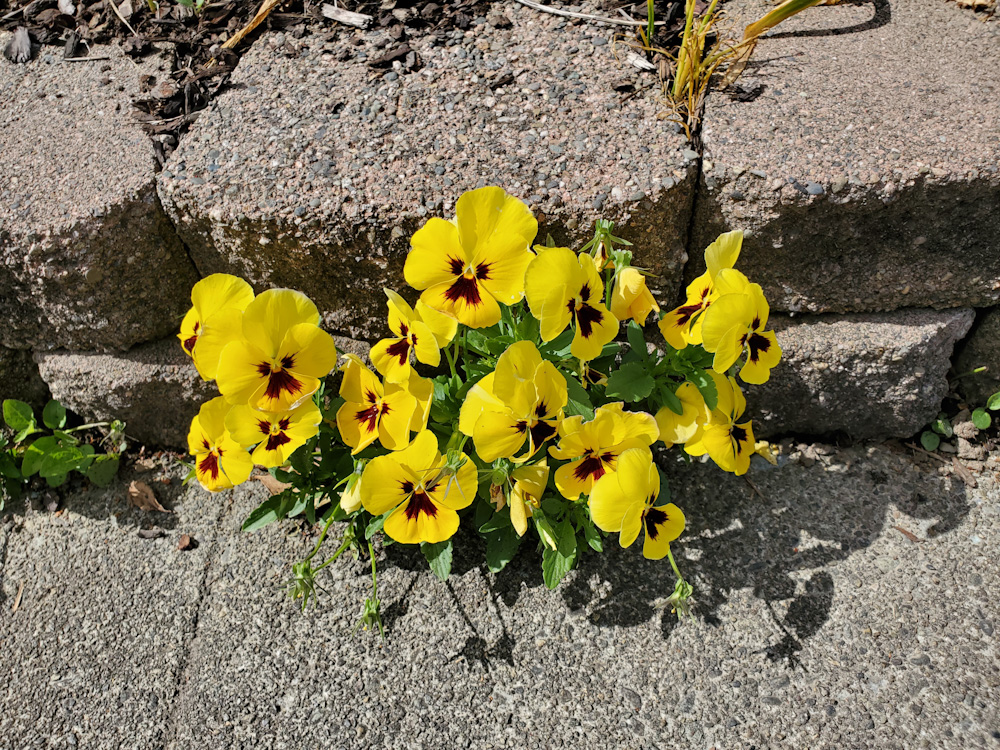 Photo and Commentary ©2020 by Shelley Schurch
Sunday, May 24, 2020
What do you see when you look at this photo?
In ordinary times I would see a bunch of pansies, those flowers that are often described as having faces, even "happy little faces." I would smile back at them, because they would take me back many years to our Alaskan front yard, and the flowers my father lovingly tended there, with me as his sidekick.
I would see the Sitka rosebush in the corner, where my friends and I would catch bumblebees in little glass jars, then let them go – a non-fishing form of "catch and release." I would smell the lilies of the valley beside our front steps, the fragrance I looked forward to each year. There were banks of nasturtiums in front of the big white trellis my father made; we enjoyed sipping on their nectar.
We weeded and watered pansies, daisies, violas, tiger lilies, bachelor buttons, golden globe, columbine, shooting stars, bleeding heart, marigolds, sweet william, and more. (And there was a flower we called "dirty dishrag" – why was that included in our garden?)
I remember the long sunny summer evenings in that front yard where friends congregated to play, not only because we were one of the few houses with a front yard, but also because my father made us jump ropes and stilts and made it a welcoming place.
All that would often come back to me in ordinary times when I looked at pansies – a loving trip down a floral memory lane.
But in these anything but ordinary times, I must confess that none of those fond memories came to mind when I recently saw these pansies and snapped their photo. Instead I thought they looked like they were waiting at a bus stop, several of them looking down the street to see if their bus was coming. And I immediately noticed they were WAY TOO CLOSE TOGETHER!
In this season of safe distancing I want to call out to them to spread out at least six feet apart and mask up! To be careful for themselves and thoughtful of each other! And do they have hand sanitizer in their pansy pockets?
A couple of months ago these pansies would have been simply those "happy little faces," but now I look at them through the lens of what I've learned and experienced since the pandemic wrapped itself around our planet. The flowers haven't changed their appearance, but I've changed how I look at them.
Many factors affect the lens through which I look at the world – personality, upbringing, circumstances, experiences, deep-set beliefs . . . My challenge is to bow before God each morning and ask Him to shape my lens, through His Holy Spirit, so that I will look as He looks, value what He values, and love as He loves.
So how do you look? Looking at you through His eyes, you're looking loved!