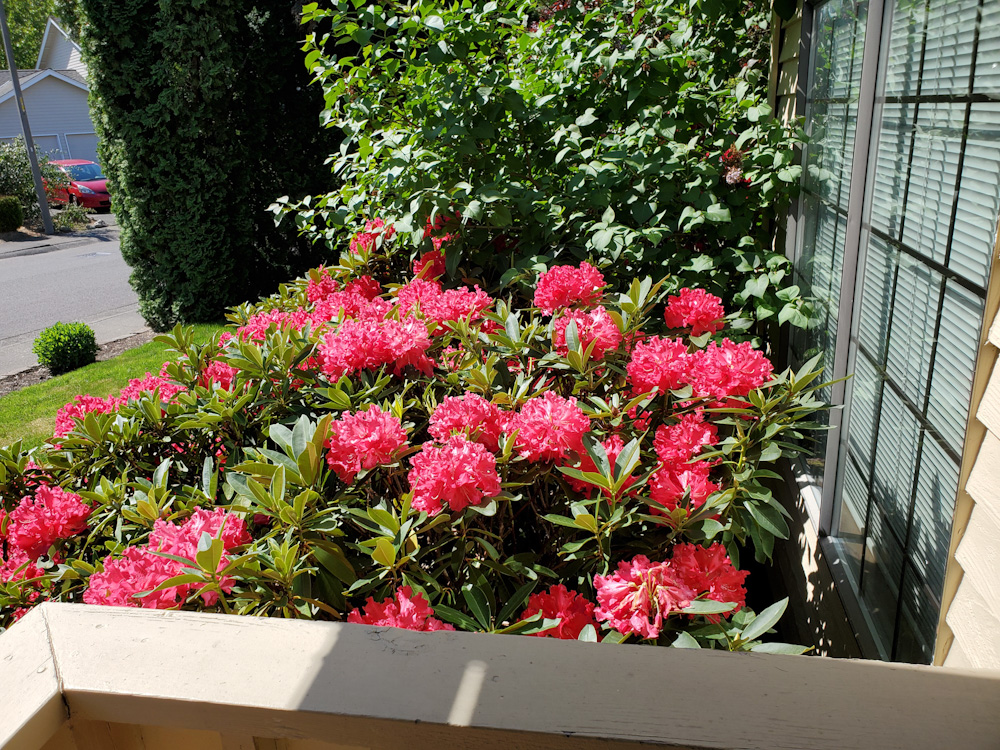 Photo and Commentary ©2020 by Maylan Schurch
Friday, May 22, 2020
Shelley's and my front porch faces east, and what you see above is what greets us at this time of year on sunny mornings. We didn't plant these rhodies–they were there when we moved in–and I really should burrow underneath them and do some trimming so it's easier for the lawnmower to get under, but there they are, every morning, their dew-sparkled pink not only attracting the amiable bumblebees but flashing us a cheery "Good morning!"
Have you considered the many ways God says "Good morning!" to you each day? He made your eyelids to open automatically, your mind to become aware of your surroundings, your tummy to ache so you'll eat breakfast, and on and on. And of course He has kept your heart steadily beating all night.
Have you ever thought of saying "Good morning!" back to Him? Someone whose name I could not discover wrote the following children's song . . . .
When I wake up in the morning and I lift up my head
I sing, "Praise the Lord, praise the Lord!"
When I roll right out of bed, and my feet hit the floor
I sing, "Praise the Lord, praise the Lord!"
Good morning Lord! I love you! I just wanted you to know!
Here's my life my, my heart, my will, my self, I yield it all to thee.
Take my life and use it, guide my feet along the way,
May your words my mind renew, your spirit fill me each day.