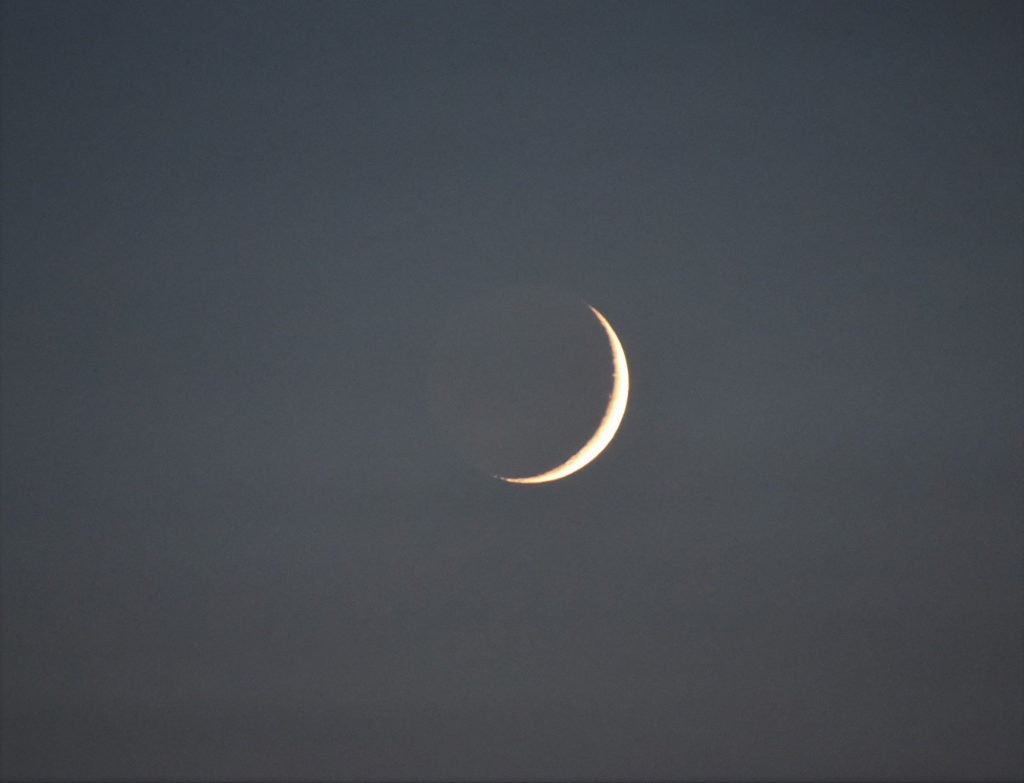 Photo and Commentary ©2020 by Darren Milam
Wednesday, May 20, 2020
I grew up as a Seventh-day Adventist and my parents made sure attending church and Sabbath School was a priority. During those formative years, so many of the stories told were about heaven and the positive future we will see "soon." As I grew older, I realized the "soon" is relative but the outlook and hope is the same. The baseline of these thoughts of faith are  "more to come," or more accurately put, "better things to come."
The image above is of course, our moon. As you can see the sliver of moon that is reflecting the sun's light is just that, a sliver. We also can see a faint outline of the rest of the moon. Even though it's not lit up, we have the faith and belief that it will be at some point. We can look up and say, "Yes, someday soon, there is more to come". As we keep our eyes focused up, we can say the exact same thing – more to come. Better things in the future – "soon." Jesus promised He plans for more and better things for us.
John 14:1-4, "Let not your heart be troubled; you believe in God, believe also in Me. In My Father's house are many mansions; if it were not so, I would have told you. I go to prepare a place for you. And if I go and prepare a place for you, I will come again and receive you to Myself; that where I am, there you may be also. And where I go you know, and the way you know."
I know we all long for the day where we can look behind us, as we are lifted up, and say goodbye to the earth we know. We can then fix our eyes on better things and prepare to meet our Creator.