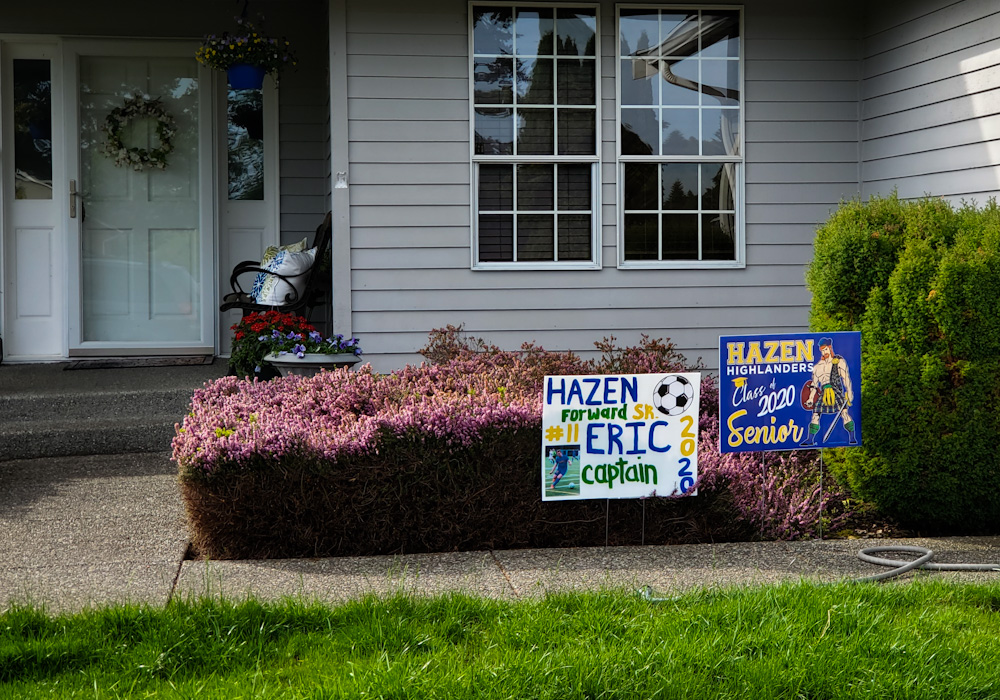 Photo and Commentary ©2020 by Maylan Schurch
Sabbath, May 16, 2020
Within the past few weeks I've noticed something I'd never seen before in our area—graduation signs. Unless I've been abysmally unobservant, I don't believe schools have been doing this all along. But now that educational institutions have been closed, and graduation ceremonies and class trips and other milestone celebrations have evaporated, administrations have decided to use signs as a way of honoring the now-solitary seniors.
Normally such school-produced signs are like the one on the right, containing the school name, the name of the athletic teams, a logo, and some such proclamation as, "Class of 2020 Senior."
But on the left you see another sign, honoring the same student, but this time for being a star on the school's soccer team. This sign—though nicely done—looks more homemade, and may have been fashioned by a parent or a family member. To them, Eric is not just a generic senior, but a beloved young man who'd distinguished himself in a specific way. I would imagine that every time Eric returns home and walks up the sidewalk, his heart is lifted by these tokens of encouragement.
Want to read some Bible passage about encouragement, including the kind God gives us? Click the link just below.