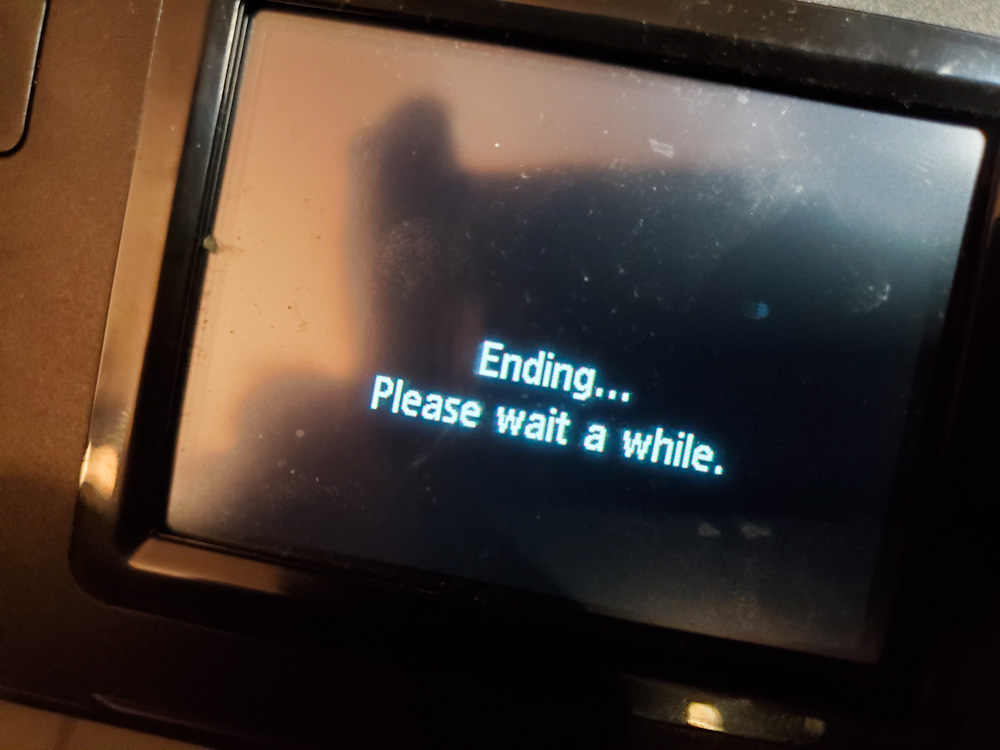 Photo and Commentary ©2020 by Maylan Schurch
Friday, May 15, 2020
Normally I am delighted at the advance in computer and printer technology. When I think back to my mid-1980's IBM PC-XT with its heavy green screen, and my Radio Shack dot-matrix printer with its fanfold paper, I shudder with relief.
However, all is not always well here in the 21st century. Back in the old days, when something went wrong with your printer, you could usually fix it in a minute or two—it was usually a paper jam. Nowadays, everything is so much more complicated—and each glitch is therefore more of a challenge.
Take this past Monday night. (As the old comedian Henny Youngman might say, "Take it. Please.") I was sitting at my computer, just having pushed Ctrl-P, assuming that my relatively late-model Canon printer would pump out the required sheets of paper. But instead, the printer went into a long delay, its screen giving me no clues except for an error code number.
One good thing about nowadays is Google Search, which can bring up all sorts of technical assistance. So I typed in the printer model and the error code, and the instructions said to first turn off the printer.
But if you'll believe me, the printer didn't immediately follow my command and turn off. Instead, it gave me the message in the photo above, and kept that message on the screen until I pulled the power plug: "Ending . . . Please Wait Awhile."
All is well now. The printer's back doing its duty (I fixed a paper jam and then replaced the ink cartridges, and that did it.)
But doesn't this remind you of the past couple of thousand years? The Bible tells us that Jesus' coming will be soon—and that the world is indeed ending. But "Ending . . . Please Wait Awhile" seems to be the message we've been getting.
Seen from eternity's perspective, of course, two thousand years is the snap of a finger. The first part of 2 Peter 3 responds to scoffers "who will come in the last days . . . saying, 'Where is the promise of His coming?'" (verses 3, 4 NKJV) Peter replies, "The Lord is not slack concerning His promise . . . but is longsuffering toward us, not willing that any should perish, but that all should come to repentance." (verse 9)
So as we're forced to "wait awhile" for the end of the world, let's remember that this delay is a patient and compassionate one. It won't last forever, of course. So let's be ready.
For more about Jesus' Second Coming, and how to get ready for it, click the link just below.
https://www.bibleinfo.com/en/topics/second-coming-jesus-christ