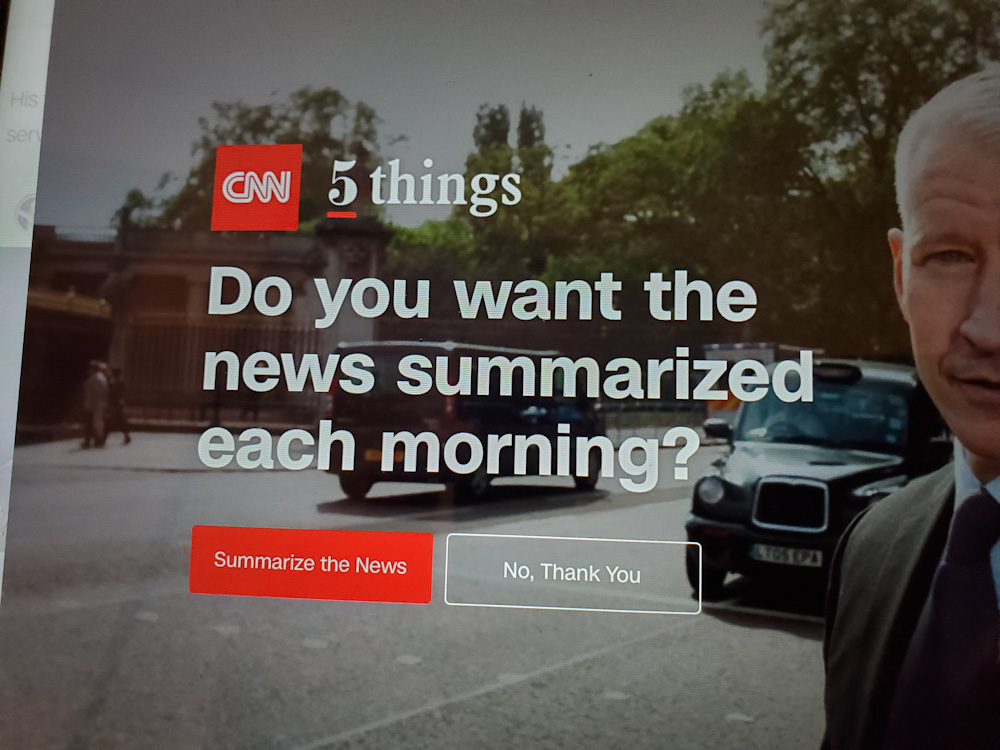 Photo and Commentary ©2020 by Maylan Schurch
Friday and Sabbath, March 20 and 21, 2020
A month or so ago I clicked on to a news site, and suddenly the above image popped up on my screen. Back in those pre-virus days when I first saw it, my response was a shrug of indifference (partly because I'm already subscribed to that daily feature). But I grabbed my smartphone, held it up to the screen, and snapped the photo in case I might need it for a Daily Photo Parable.
Now, when I glanced at this photo today, and re-read its question, I  had a totally different reaction: No, please, no. A moment ago I actually went to the CNN.com site, and the first 40 or so stories were about the coronavirus and how it has affected the lives and pursuits (and jobs) of people all around the world. I turn on the radio—public or commercial—and guess what they're talking about.
So no, I don't want the news summarized for me right now. But I also know I need to stay informed—not from a single source but from multiple "witnesses," as the Bible says. And I need to remember the advice given by the One who predicted "pestilences" (Matthew 24:7)—and even greater traumas–as the time of the end nears:
And there will be signs in the sun, in the moon, and in the stars; and on the earth distress of nations, with perplexity, the sea and the waves roaring; men's hearts failing them from fear and the expectation of those things which are coming on the earth, for the powers of the heavens will be shaken. Then they will see the Son of Man coming in a cloud with power and great glory. Now when these things begin to happen, look up and lift up your heads, because your redemption draws near. Luke 21:25 – 29 NKJV
Notice—Jesus did not say, "Bury your heads in the sand," but instead, "Lift up your heads, because your redemption draws near." In His prophecies, Jesus gives us a "heads up" in two ways—be on the alert, and look to the sky for His coming.
Online education is the thing these days, because of the virus. So here's your chance to become more familiar with some key Bible verses which talk about the signs Jesus' coming is near. Click the link just below: