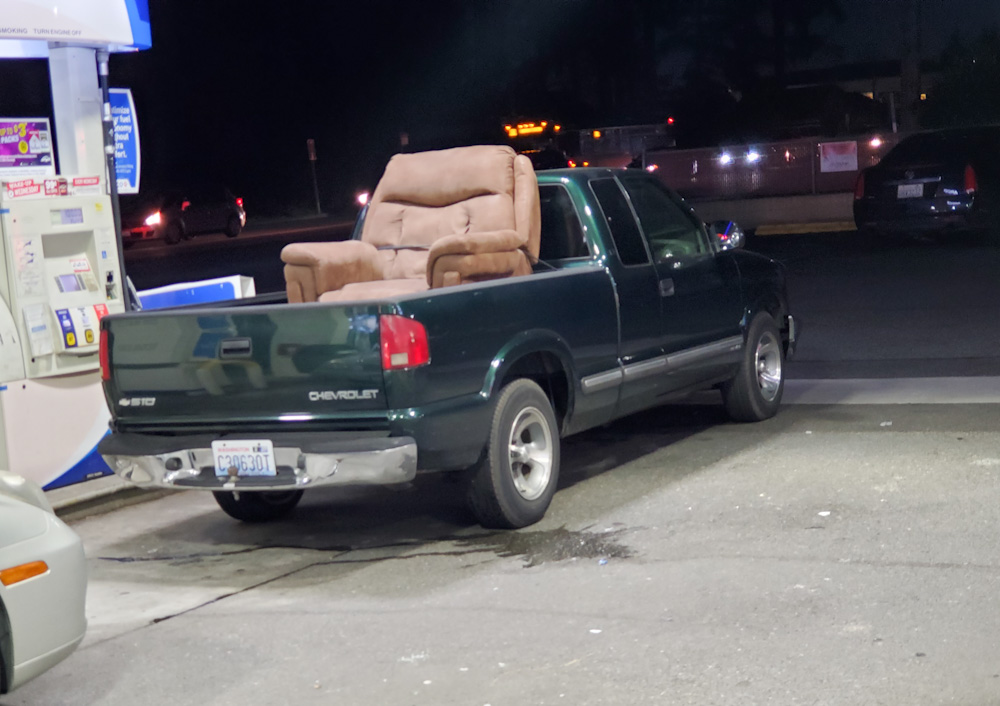 Photo and Commentary ©2020 by Maylan Schurch
Sabbath, February 29, 2020
One night a week and a half ago I was filling my car at a gas station when I noticed this pickup with a comfy recliner in its box. The weather was dry, and I'm assuming that whoever was driving the vehicle was transporting the chair to the living room of a friend or family member.
For a split second I wondered what it would be like to actually sit in that recliner as the pickup hurtled along the freeway. As a kid I'd ridden in the back of a farm pickup with my dad going a cautious thirty miles an hour along a gravel road. And what I discovered was that even at that prudent speed, the ride might look exciting, but it was  alarmingly windy.
And since the truck's cab blocked your view forward, you spent the whole journey looking back to where you'd been—which gets pretty old after a while.
See where I'm going with this? You and I are hurtling along through a wild history-ride, with events flashing past us with breathtaking speed. But this ride quickly becomes overwhelming if we don't have a clue about where we'll end up.
Thankfully, Bible prophecy lets us move from the truck box to the cab, and sit with the Driver while He points out the future. Which makes the trip a whole lot safer and more amazing.
To read some of the Bible's prophetic passages, click the link just below.