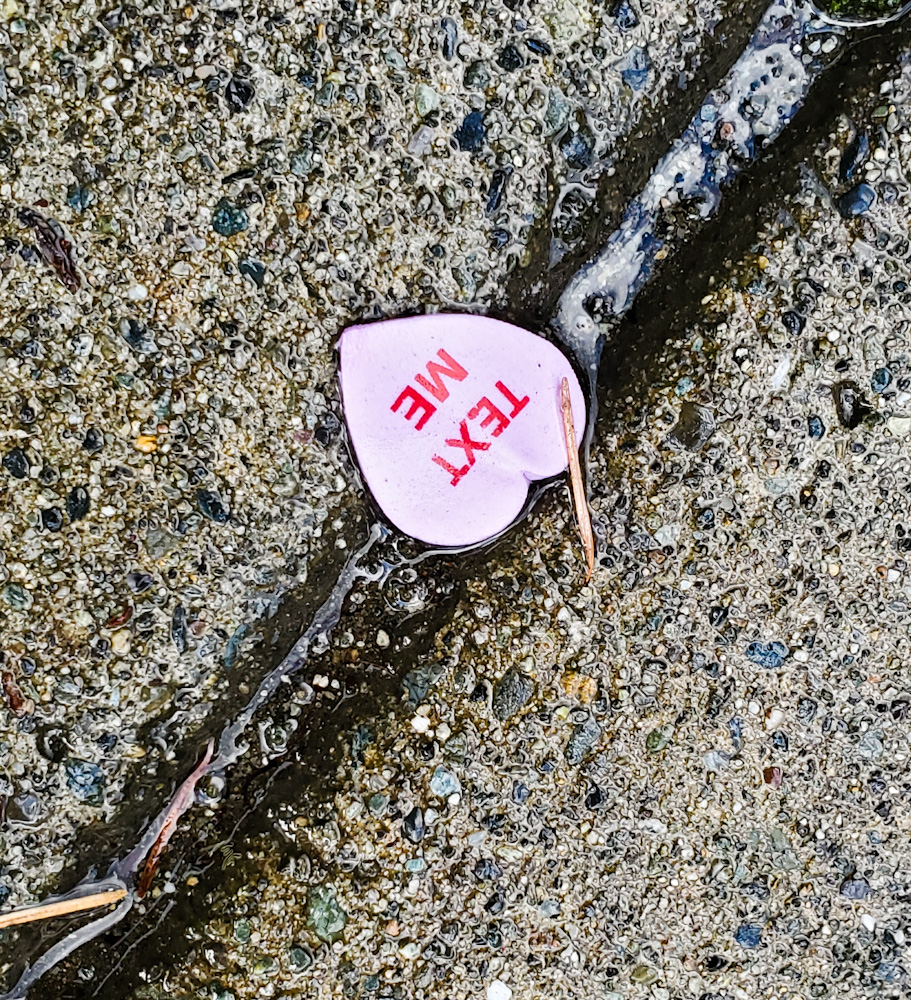 Photo and Commentary ©2020 by Maylan Schurch
Sabbath, February 22, 2020
I managed to make it through the entire Valentine's Day season this year without munching on one of these heart-shaped candies with a message on it. Since I don't have kids or grandkids, I don't normally move in candy circles—and sweets are not good for my family's Type II diabetes genetic code. And it's been a long time since I've craved the flavor.
But a couple of weeks ago I was stopped short by seeing a larger-than-normal candy heart which had fallen into the crack between two sidewalk slabs. And it bore a message that, when I was a boy (and used to seeing "Be Mine", "Kiss Me", "Call Me", or "Miss You"), would have had absolutely no meaning.
"Text me." In other words, type a message to me on your smartphone. (Doesn't a chill run down your back when you think of kids young enough to exchange candy hearts having personal access to cell phones?)
Anyway, this little message is entirely appropriate to communicate to our Creator. "Text me, Lord!" And He has already answered! Through the Bible, He has "texted" us more than 31,000 times (that's now many verses there are in Scripture).
And those "texts" are far more meaningful than candy sentiments. "Man shall not live by bread alone," Jesus once quoted from Deuteronomy, "but by every word which proceeds from the mouth of God." (Matthew 4:4)
To review some other Bible reasons why Bible texting is so important, click the link just below. Do you have a regular plan to read the Bible every day?