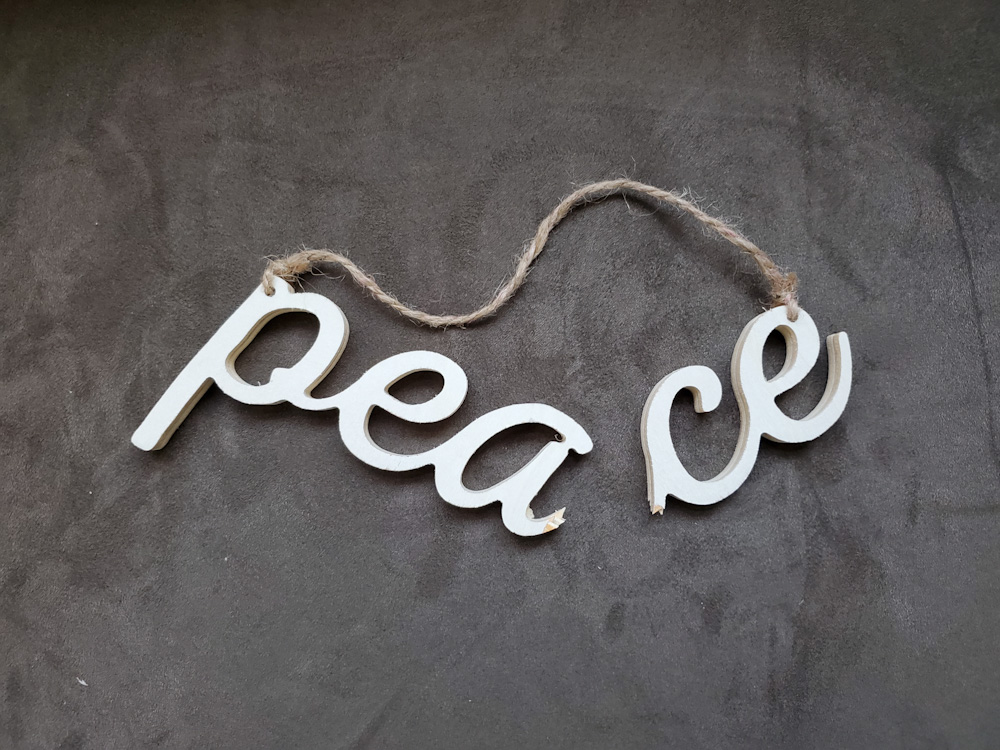 Photo and Commentary ©2020 by Shelley Schurch
Sunday, February 16, 2020
I was going to throw it away. It was a small, inexpensive wooden word that I bought the week after Christmas on a 70% off sale, when the stores needed to move Christmas off their shelves so they could bring in hearts and shamrocks for the next holidays.
I brought it home and tucked it into our front door wreath, hoping the Home Owners' Association wouldn't object to this post-Christmas decoration which still looked good and smelled fresh. After all, peace isn't something seasonal; it's something we long for and pray for all year long.
But a few days later my word fell out of the wreath and broke in two, so I was heading toward the trash with it when I stopped. Looking down at it again, I saw my "peace" broken in pieces, and I could relate.
How many times have I let circumstances stir up anxiety and fear and break apart my peace? Was I learning to turn to the Prince of Peace to mend my connection with Him, and grow my trust in Him?
I thought of a sentence that I often repeat, to reassure myself that God is eager to come alongside me and provide just the help I need, when I need it, even if it's something that seems a small matter to mention to the King of the universe. Here it is: "Nothing that in any way concerns our peace is too small for Him to notice."
This good news is embedded in the middle of one of the most encouraging passages I've ever read, so I want to share it all with you:
Keep your wants, your joys, your sorrows, your cares, and your fears before God. You cannot burden Him; you cannot weary Him. He who numbers the hairs of your head is not indifferent to the wants of His children. "The Lord is very pitiful, and of tender mercy." (James 5:11} His heart of love is touched by our sorrows and even by our utterances of them. Take to Him everything that perplexes the mind. Nothing is too great for Him to bear, for He holds up worlds, He rules over all the affairs of the universe. Nothing that in any way concerns our peace is too small for Him to notice. There is no chapter in our experience too dark for Him to read; there is no perplexity too difficult for Him to unravel. No calamity can befall the least of His children, no anxiety harass the soul, no joy cheer, no sincere prayer escape the lips, of which our heavenly Father is unobservant, or in which He takes no immediate interest. "He healeth the broken in heart, and bindeth up their wounds." (Psalm 147:3) The relations between God and each soul are as distinct and full as though there were not another soul upon the earth to share His watchcare, not another soul for whom He gave His beloved Son. (Steps to Christ, Ellen G. White, page 100)
As you walk out into the week may these words ring in your heart. Live loved!