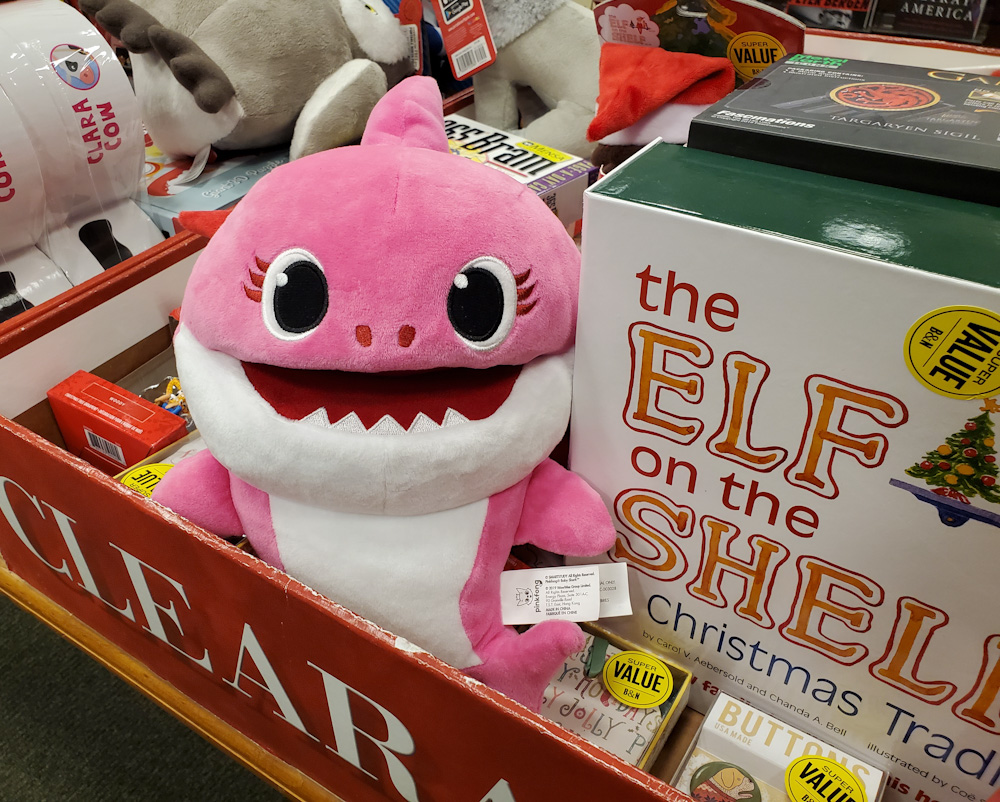 Photo and Commentary ©2020 by Maylan Schurch
Sabbath, February 15, 2020
Being staffed with shrewd businesspeople—and thus still surviving—the Barnes and Noble organization seeks to keep their inventory fresh, ridding it of items which they no longer consider necessary. For that purpose, the staff fills anywhere from one to three "clearance" tables in case the guests should feel, for example, the need of highly-discounted 2020 planner notebooks and calendars.
A week or so ago, therefore, having dodged the temptation to buy one of the planners, I checked out the rest of the clearance items. I saw the above scene—an "Elf on the Shelf" box being cuddled closely by a definitely non-elvish pink fish of some kind. (To try to identify it, I pulled up the famous "Baby Shark" videos on YouTube to see if this fish fell into that category. I don't think it does, but the song is now a permanent part of my consciousness.)
So, where am I going with this? I've called this blog "Impostor." What the pink fish is, I don't know. But the Elf on the Shelf is definitely an imposter. If you type "elf on the shelf" into Wikipedia, you will learn that the small elf in the box can be placed on a shelf in your house. After all, Santa has to have some way of telling whether kids are naughty or nice, and the elf tips him off.
But if you scroll down in the Wikipedia entry to the segment titled "Criticism," you will find a paragraph tightly packed with negative comments from newspaper columnists, a psychologist, and a college professor. The professor argues that the elf "conditions kids to accept the surveillance state."
Anyway, neither you nor I believes in Santa Claus, nor in spying elves. But do we believe in a "spying God"? Sure, God knows all about us, and His angels do keep record of our words, deeds and thoughts. But the original root of the great controversy between Christ and Satan is the character of God. What is God really like? How can we be sure we're not worshipping an impostor? Would our heavenly Father be enjoyable—and safe—to spend eternity with?
For some valuable Bible information about what God is really like, read all the Bible references at the link just below.