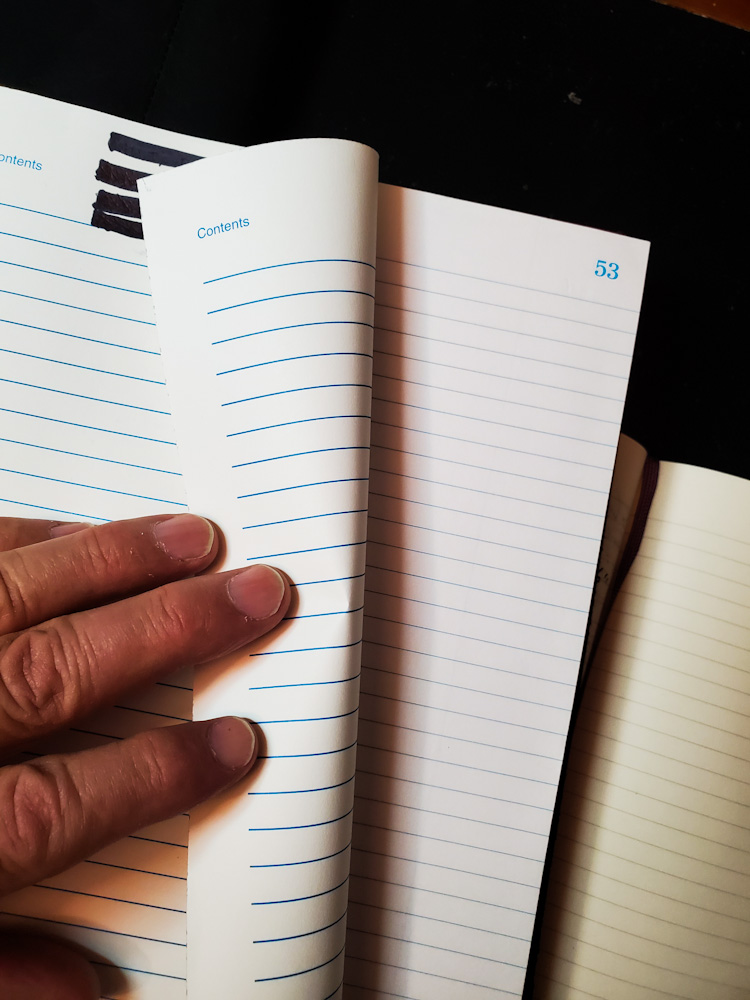 Photo and Commentary ©2020 by Maylan Schurch
Friday, February 14, 2020
I've mentioned before in these blogs that you can find very nice writing journals in thrift stores. The only downside is that often the first few pages will be cut or torn out, showing that the journaler's zeal for soul-purgation had finally subsided.
Sure enough, a few weeks back I discovered another such expurgated journal, the one depicted in the photo above. As you see, this notebook was fancier than most, boasting not only lines for a table of contents but also numbered pages. And its former owner filled a staggering 52 pages (which must be some kind of a record for private paper-musings before a journal is consigned to the Goodwill box.)
So what did those 52 pages contain? Agonizings about personal failings or shorcomings? Heart-clearing confessions about sins? Whatever it was, they're gone. No one can ever read them again.
That's what our forgiving God will do for us. "Who is a God like You," asks the prophet Micah, "Pardoning iniquity and passing over the transgression of the remnant of His heritage? He does not retain His anger forever, because He delights in mercy. He will again have compassion on us, and will subdue our iniquities. You will cast all our sins into the depths of the sea." (Micah 7:18, 19 NKJV)
Want more Bible evidence of how thoroughly God can not only forgive and cleanse but forget our sins? Click the link just below, and then follow the steps to take advantage of His offer.