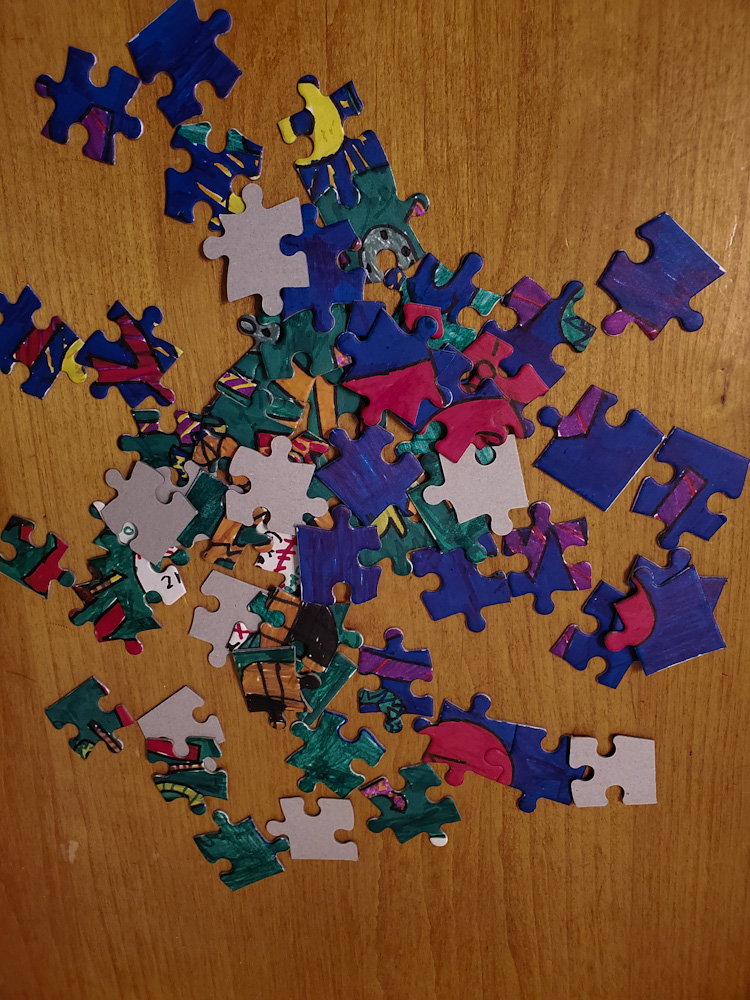 Photo and Commentary ©2020 by Maylan Schurch
Sabbath, February 8, 2020
Every Tuesday I spend the morning in several classrooms at Kirkland Seventh-day Adventist School. I read picture-books to the lower grades, and teach drawing or do whatever else the upper grade teachers ask me to, including grade papers.
In mid-January Mrs. Anderson's second grade class presented me with the above puzzle, lettered by the teacher and colorized by the class. They'd put it together for me, but the photo above shows what it looks like when it's apart. When I got home I separated the pieces and challenged my wife Shelley (a puzzle expert) to put it together—without showing her the completed picture. It took her under five minutes!
Then I removed the upper right corner pieces, and took this next photo: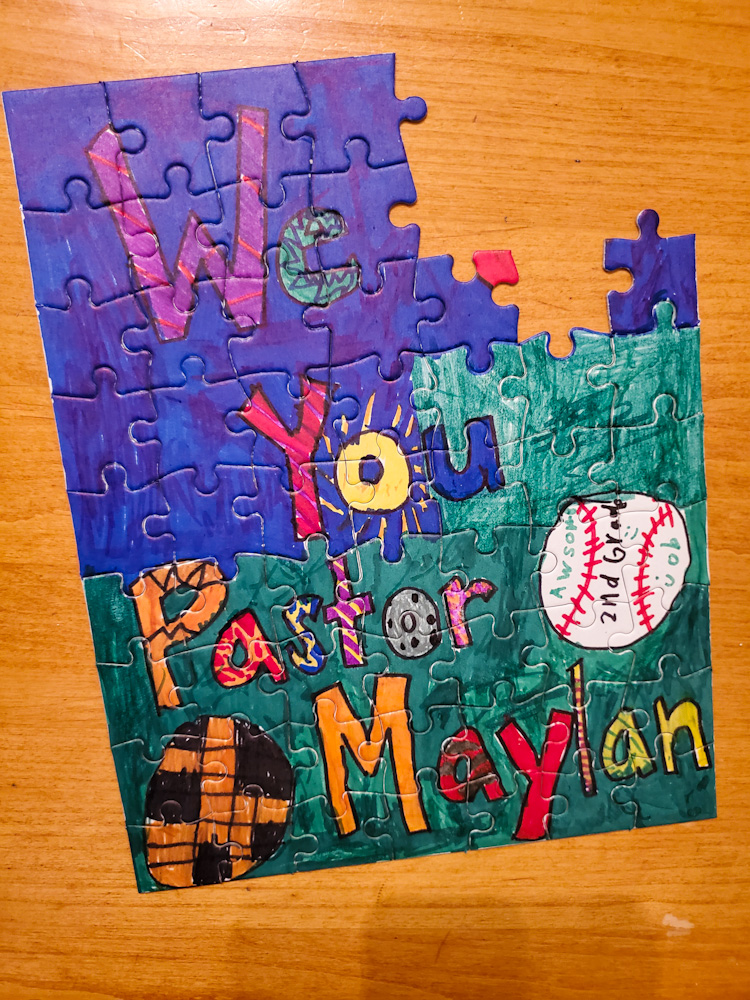 As you can see, it says, "We [blank] you, Pastor Maylan." These kids feel something about me, but without the missing pieces the message is incomplete. Do they "hate" me? "Tolerate" me? "Ignore" me?
You know the missing word, of course. Here it is: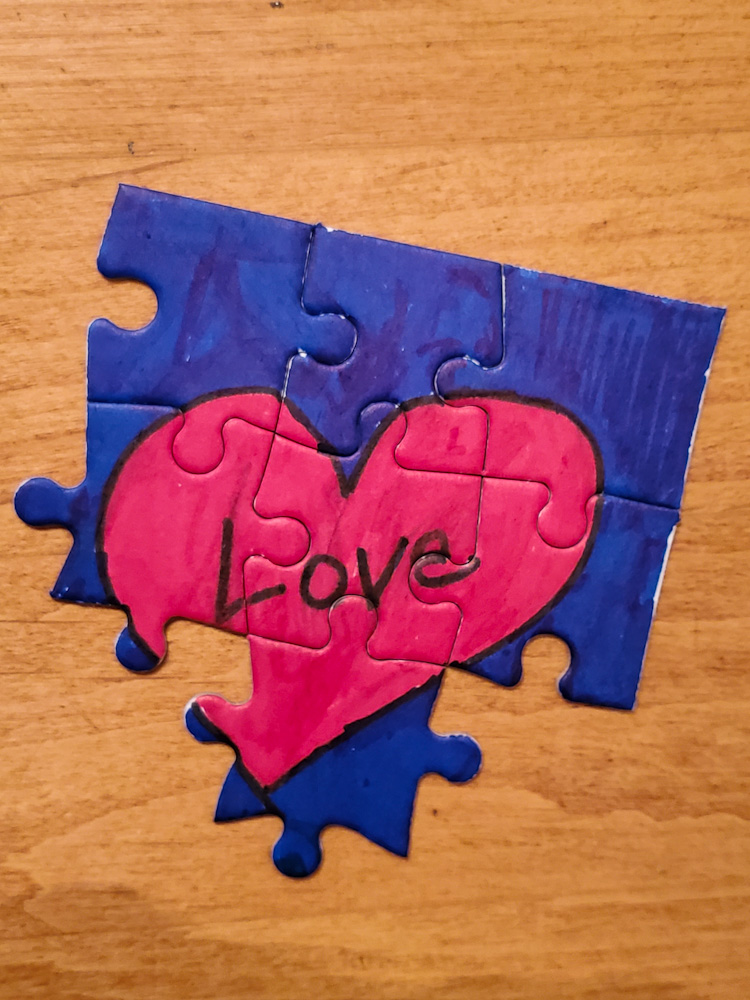 And when you slide that corner in place, the puzzle is complete: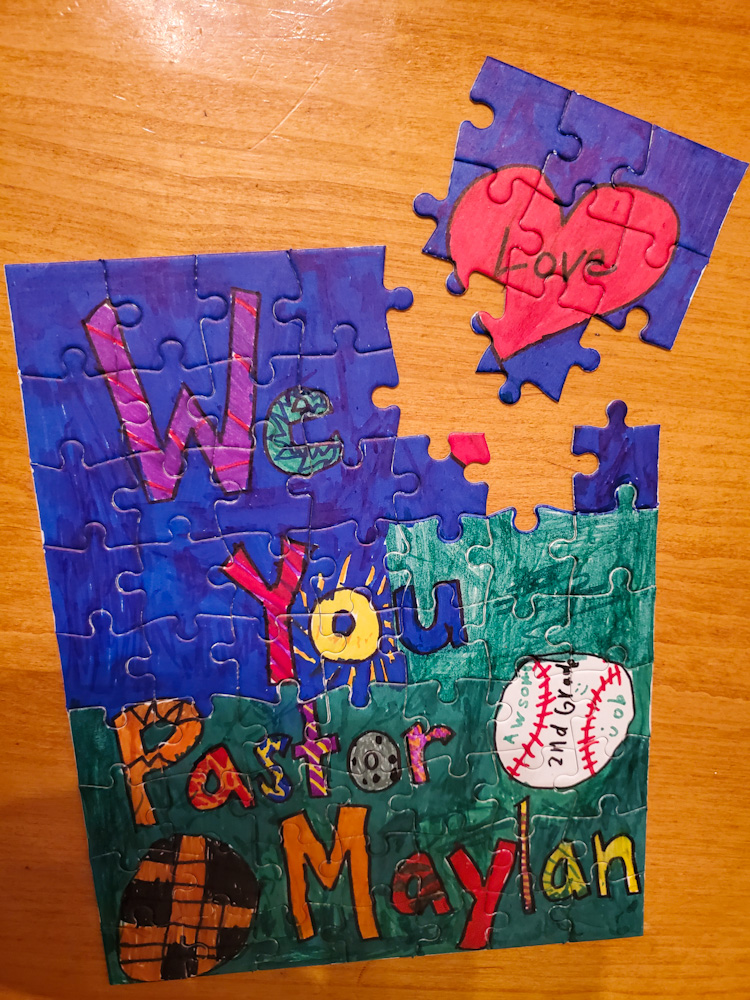 Okay. Let's say I didn't have the corner pieces. Let's say somebody in the class misplaced them, and when I put the puzzle together they were missing, until the class hunted for them. Meanwhile, how would I know what the kids felt about me?
No-brainer, right? I know these kids. I've spent time with them. Every time I finish reading a book to them and start to depart, they say in chorus, "Thank you, Pastor Maylan!" I've looked into their eyes.
And you have already figured out where I'm going with this photo parable, haven't you? When you first get acquainted with it, the Bible seems to be a huge puzzle with a lot of pieces. Some pieces are cheerful, others are darker, and some seem a bit menacing. A few pieces say, "God loves you," but how do they fit with the other parts?
Time is the key. Time spent reading large portions of Scripture. Time spent examining nature with the idea that God designed and created it. Time spent talking to Him in prayer, or writing letters to Him.
So what is God like? Some Bible verses to get you started—or keep you going—on your quest for Him, are found at the link just below.