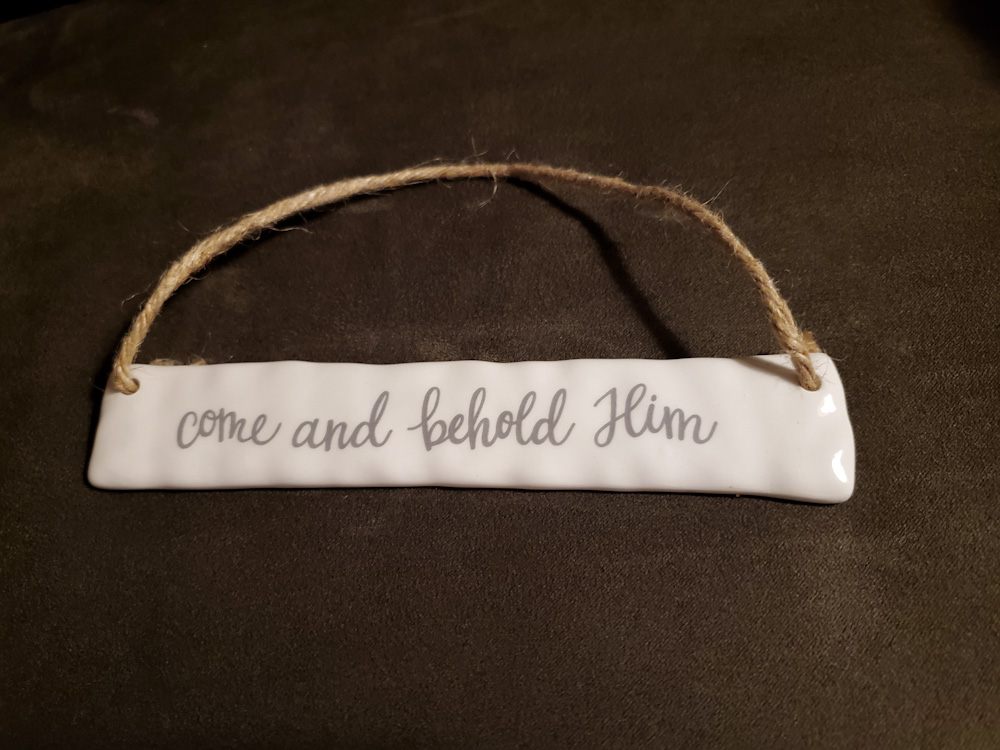 Photo and Commentary ©2020 by Shelley Schurch
Sunday, January 12, 2020
I need a new pair of glasses, or, to be precise, I need a new prescription. I'm reminded of that increasing truth every time I whip off my glasses to read fine print, and tilt my head to better read my screen . . . and every time I read the number of this new year.
A dozen days into the new year, I'm joining what I'm sure is a large chorus of blog posts and sermons about 2020 being a wonderful number to remind us, all year long, of all things vision-related, whether physical or spiritual.
The stores have moved on from Christmas and are full of hearts and valentines now, but the Christmas ornament shown in today's photo is not going to be packed away until next December. I'm keeping it daily visible as my invitation to keep my eyes on Jesus. One dictionary definition of "behold" is to "see with attention," and I want to pay better attention to Jesus this year.
In her most recent book, Beholding and Becoming: The Art of Everyday Worship, artist and author Ruth Chou Simons reminds us that, "The advent of mobile devices brought a fundamental shift in the way we engage with the world . . . . We've been given so much to look at, but we are missing the art of beholding. We are so captivated by our technology and all that it puts before our eyes that we overlook the ways that God displays His glory through creation, relationships, and our ordinary circumstances in the day to day. We look for dramatic ways to experience God, but His presence and transforming work in our lives happen minute by minute."
I'm on a waiting list for an appointment with my ophthalmologist's office, but I'm thankful there's no need to stand in line to have my spiritual vision checked and transformed.
And I'm thankful for the powerful "Behold" promises of that ring out from the back of The Book:
And I heard a loud voice from heaven saying, "Behold, the tabernacle of God is with men, and He will dwell with them, and they shall be His people. God Himself will be with them and be their God. And God will wipe away every tear from their eyes; there shall be no more death, nor sorrow, nor crying. There shall be no more pain, for the former things have passed away.
Then He who sat on the throne said, "Behold, I make all things new." And He said to me, "Write, for these words are true and faithful." (Revelation 21:3-5)
"Behold, I am coming quickly!" (Revelation 22:7)
Could this be the year we behold Him?
Behold and Be Blessed this new year – Happy 2020!