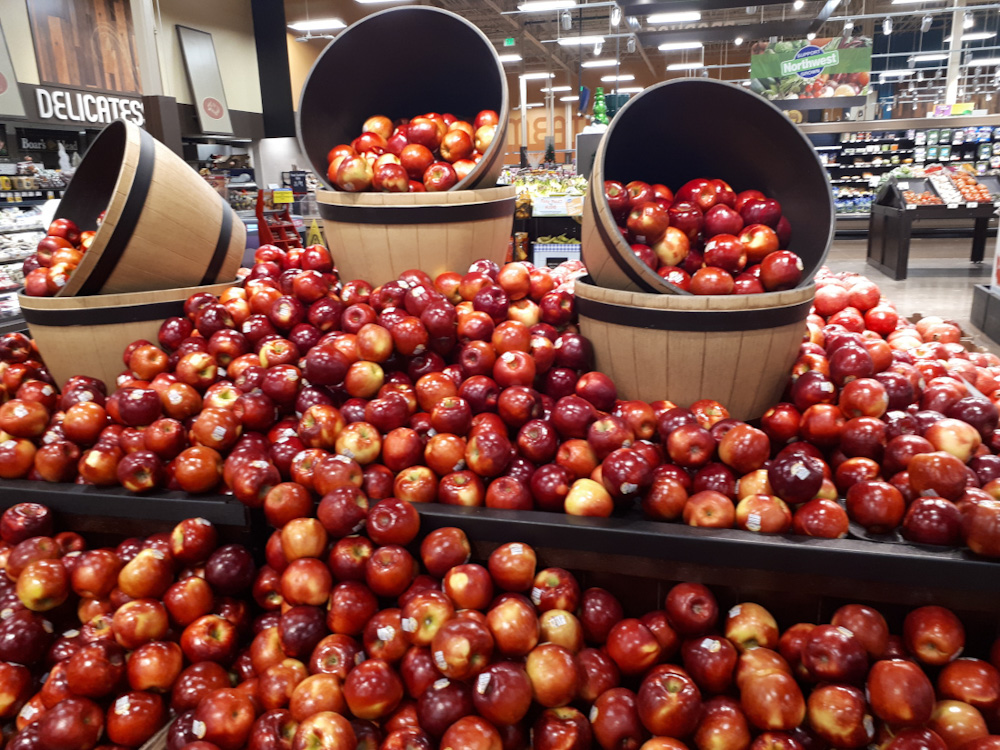 Photo ©2019 by Amber Jurgensen
Commentary ©2019 by Russell Jurgensen
Thursday, December 5, 2019
There was some excitement in the produce world this week as a new apple variety, Cosmic Crisp, was introduced. We bought a few to see what the buzz is about. Before I get to the taste test, I remember some of the craziness leading up to this unprecedented apple release.
I first heard about the cosmic crisp from a friend who is an avid gardener and home apple grower. Roughly three years ago he told me about this amazing new apple developed by the Washington State University for local apple growers. No one else could get these apple trees, but he had a plan. He would get some cosmic crisp apples and save the seeds. He would start the seeds and grow new apple trees.
"As everyone knows," he told me, apple seeds don't grow exactly like their parent tree. Just like human children are different from their parents, apple seeds produce different variations of apple tree that are often not as good. But there will be some child apple trees that are at least similar to the parent. He would find the tree that produced apples closest to the cosmic crisp, and nurture that tree.
Now that is excitement for something good. It reminds me about how Paul talked about Jesus:
But God demonstrates his own love for us in this: While we were still sinners, Christ died for us. Romans 5:8
Later on I asked my friend how the apple seed growing was coming along. He said he found that you could get cosmic crisp trees from the nursery after all. That made it more reliable and a lot less work.
Similarly, we don't have to work to gain God's love. It is easy to accept Him.
About the taste test; I think the Cosmic Crisp tastes like a cross between a Granny Smith, my favorite apple, and a Red Delicious. (According to https://cosmiccrisp.com/ it is a cross between an Enterprise and a Honey Crisp.) The Cosmic Crisp tastes great. The skin was a bit thick on my sample, which might contribute to its claimed longer shelf life. I like the dark red color. Now if the price will come down to Earth.
When I eat Cosmic Crisp apples, I will remember the cosmic love that God has for us.