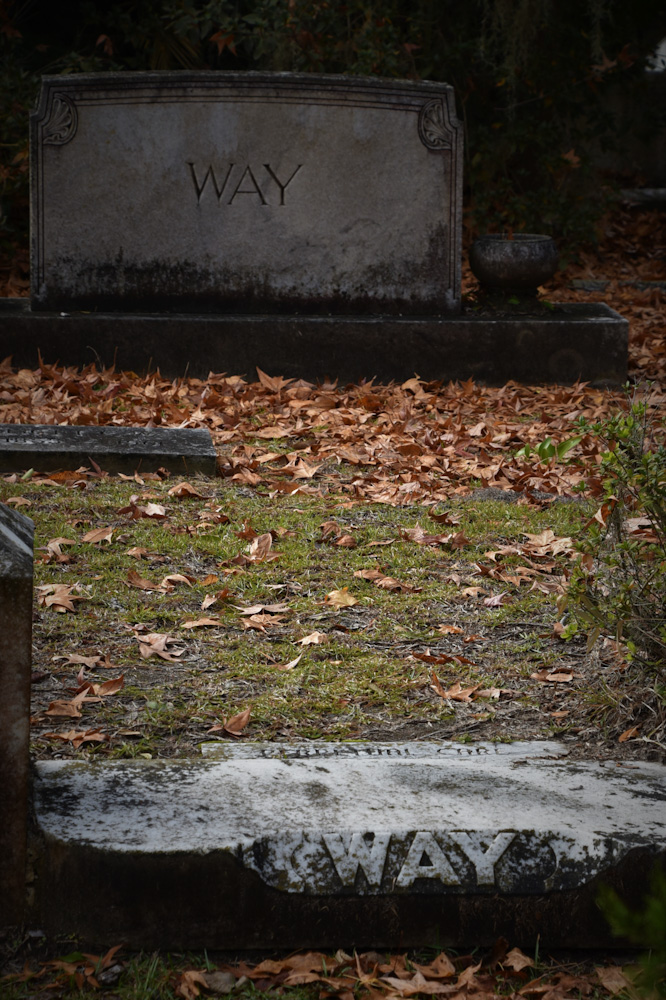 Photo and Commentary ©2019 by Darren Milam
Wednesday, December 11, 2019
I was fortunate enough to have a few days off from work and also had a paid trip to Savannah, Georgia. We went and had a great time. A lovely city, with lots of interesting things to do – including visiting a historic cemetery, specifically the Bonaventure Cemetery. Now, you may think it's a little strange to visit a cemetery while on a vacation, but I like photography and there are lots of interesting subjects at cemeteries. Typically the grounds are protected by fences and iron gates. They usually have older trees and foliage (depending on the age of the cemetery) and lots of black and white photo options, with the stone tombstones and statues.
As you can see, I came across a tombstone that caught my eye. Clearly this is the surname of family that purchased a plot at Bonaventure, and has a few tombstones in the plot. When I first saw this, I said, "No way!" – my wife may or may not have laughed. Then I captured the image and gave it a bit more thought. We live in a sinful world and this is one example of the results of sin – a burial. It's one example, it doesn't mean it's the only example. It's one way, not the only way.
In John 14, we get to understand (along with the disciples) what the true and only way is. (5-7)
Thomas said to him, "Lord, we don't know where you are going, so how can we know the way?"
Jesus answered, "I am the way and the truth and the life. No one comes to the Father except through me. If you really know me, you will know my Father as well. From now on, you do know him and have seen him."
What a great promise – we have a relationship with Jesus, and that's a relationship with the Heavenly Father. Ultimately, the map is set before us. Now we just need to follow the directions – know Jesus and allow Him to guide us, the rest of the way.