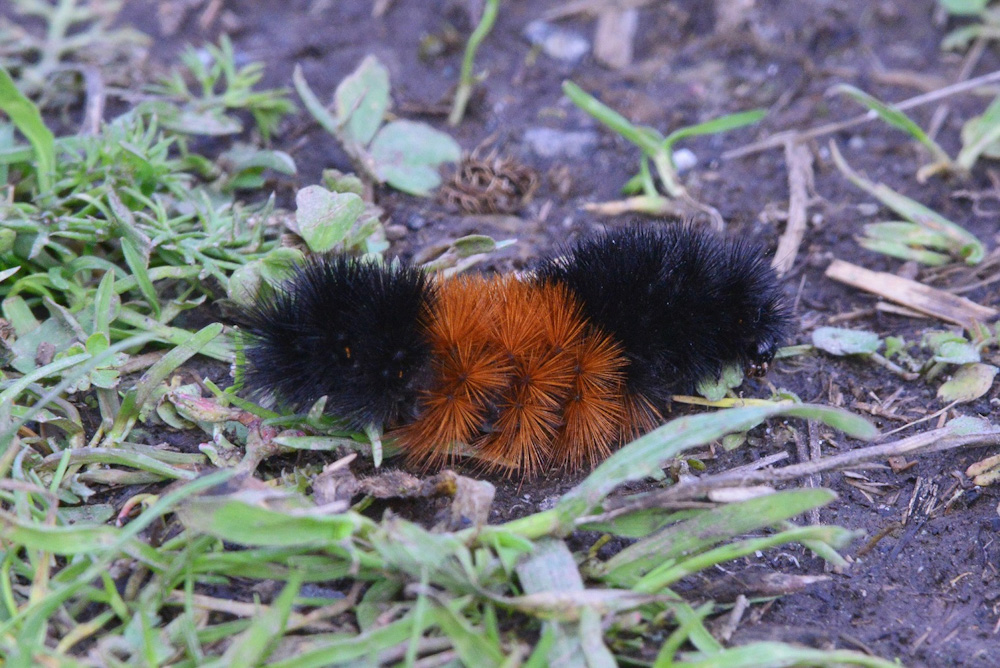 Photo and Commentary ©2019 by Robert Howson
Tuesday, November 26, 2019
Known by a variety of names, Woolly Bears are one of the most frequently recognized caterpillars in America. Adding to their fame is the tradition they can accurately predict the severity of the coming winter. The legend maintains the longer the rusty brown sections are, the milder will be the winter. It goes even further and suggests that if the head end is dark, this will indicate the beginning of winter will be severe, but should the tail end be dark, this would indicate the end of the cold season will be particularly harsh. Such insight could be very helpful.
Apparently there is at least some scientific backing to support a correlation between caterpillar color and climate. Studies have shown the number of brown hairs does have to do with age and growth, the warmer the season, the more growing will take place. It will molt six times before reaching adulthood, and colors change with each molt with increasing amounts of reddish color following each molt. Which is all well and good, except for one simple detail, the insect's color is based upon the previous season – rather than predicting the severity up of the upcoming season.
There may be some who consider Scripture to be a collection of legends, folklore passed down through successive generations. But for those of us who believe it has been given to us by God for the purpose of guiding us, we look at it in an entirely different way. Isaiah records God's own words to us: "I make known the end from the beginning, from ancient time, what is still to come. I say, 'My purpose will stand, and I will do all that I please.'"(Isaiah 46:10) NIV) That sounds considerably more reliable than counting the hairs on the larval form of a tiger moth.