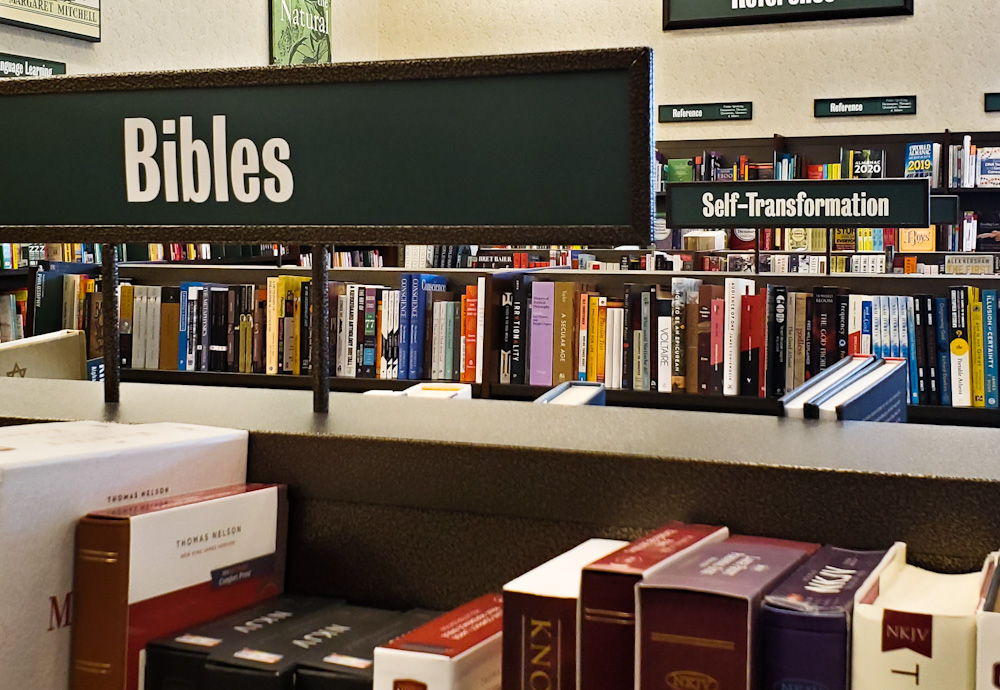 Photo and Commentary ©2019 by Maylan Schurch
Sabbath and Sunday, November 30 – December 1, 2019
One of the few bookstores left standing in this frantic online-focused decade is the stalwart chain of Barnes and Noble, whose local establishments Shelley and I drift through with great regularity.
We are both very fond of these "Barnsies," and I appreciate their clear signs announcing the subject areas. However, I couldn't resist snapping the above shot a couple of weeks ago. The two signs you see express the essence of what's known as "the great controversy between Christ and Satan"—can you, or can't you, save yourself?
Closest to the camera is the aisle of Bibles, and Barnes has an impressive supply of them. The Bible insists that "all have sinned and come short of the glory of God," and "there is none righteous, no, not one," and "not by works of righteousness which we have done, but according to His [Jesus'] mercy He saved us" (Romans 3:23, 10, Titus 3:5).
The aisle just beyond contains self-improvement books. Before I zoomed in on my original high-resolution copy of this photo, I assumed that this aisle contained such excellent books as Steven Covey's Seven Habits of Highly Effective People. But no. Instead I saw several titles which promoted atheism (The Portable Atheist, Why I Became an Atheist, and The Atheist Manifesto.)
So the battle-lines are clear, at least in this slice of book-samples. Scripture is emphatic that nothing but our Creator can draw us toward Himself. But this He is very willing to do.
To find out how He does this, and how to cooperate with Him, click the link just below.