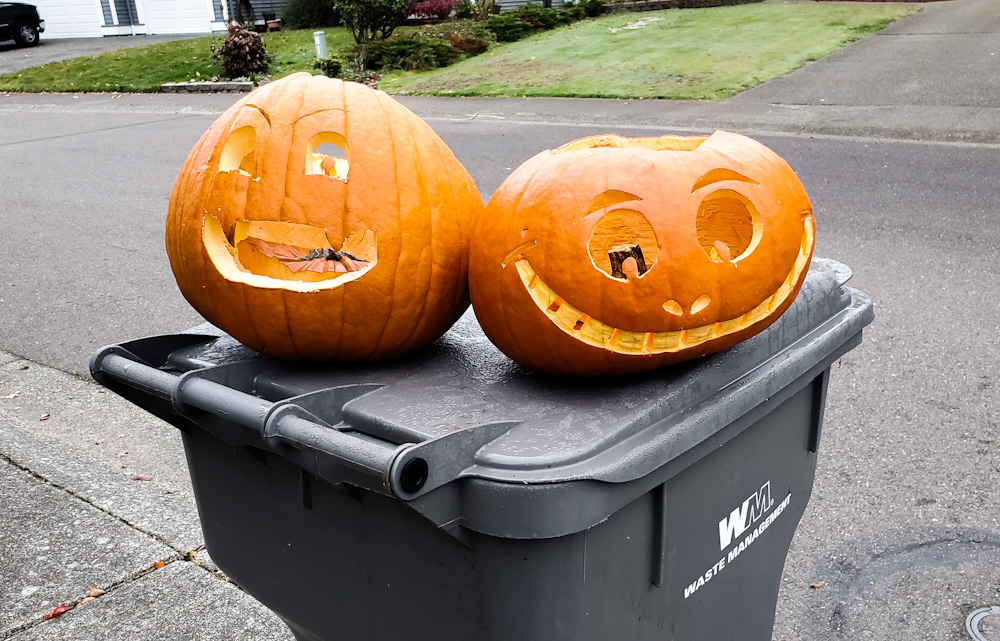 Photo and Commentary ©2019 by Maylan Schurch
Sabbath, November 9, 2019
Our next-door neighbors are moderately fond of outdoor holiday decorations. When their kids were younger, for example, they festooned their front-yard trees with glow-in-the-dark skeletons. Now their youngsters are both college age, so this year the decorations took the form of these two cheerful pumpkins (is that a vampire pumpkin on the left?).
Wednesday is garbage-pickup day, and a couple of days ago I paused to snap this photo. Whatever scariness our neighbors' pumpkins ever possessed (not that much) is evaporated by knowing that soon the yard waste truck will take them away and they'll never been seen again.
One of Jesus' favorite phrases, spoken mostly to His disciples, was "Fear not." The Greek word for "fear" is phobos, which of course is where we get the word "phobia." Do you have any phobias? One of mine is a fear of heights, and another is the fear of having to ride in the back seat of a two-door car. It's delightful to know that one day our returning Savior will "dump the scary" and usher us into a bright new world where fear is just a memory.
Want some more Bible encouragement about fear? Click the link just below:
https://www.bibleinfo.com/en/topics/fear