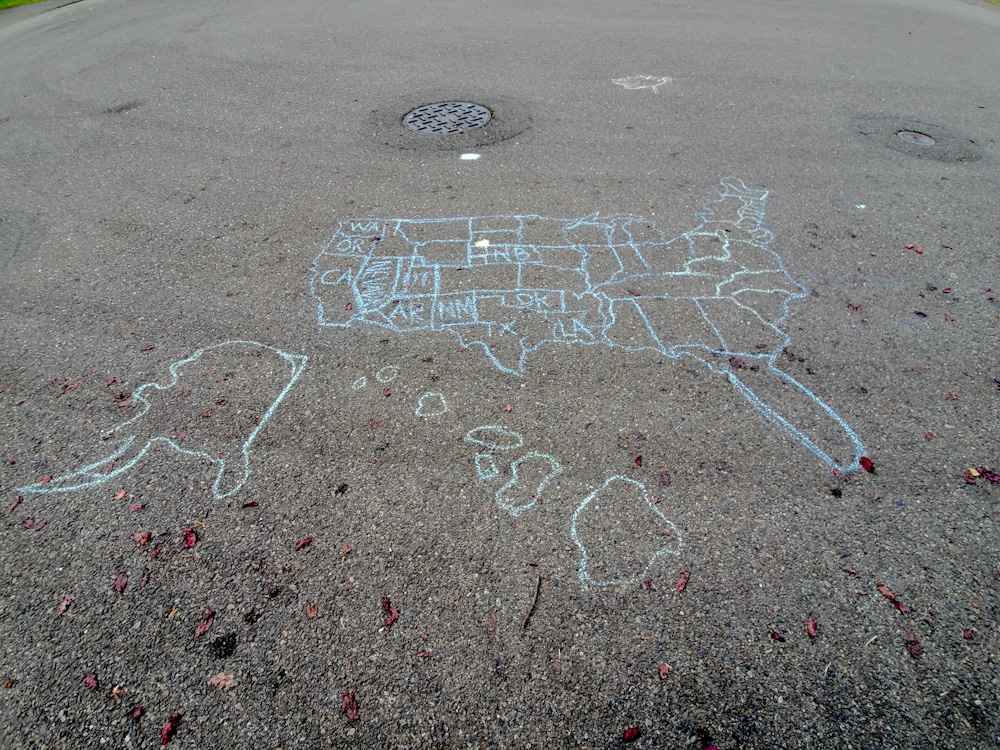 Photo and Commentary ©2019 by Shelley Schurch
Sunday, November 3, 2019
My father and I shared a love of maps. We would study them together, finding unusual names, like Nothing, Arizona; Money, Mississippi; and Zigzag, Oregon. He taught me all the state capitals by acting out the names, which was quite entertaining.
My love for maps was challenged in my early elementary school years by the maps I saw in my classrooms. My teacher would roll down the big United States map from its perch just above the black board, and there Alaska would be, in the lower left-hand corner of the map, in a little box, south of California and west of Mexico.
I bristled with indignation. I knew that my home state, land of my birth, was located far to the north of this position, north of Washington state. Explanations of why the map makers had decided it was best to move Alaska (and later, Hawaii) from their God-given positions in order to better fit the 50 states together on the map did little to mollify me. This was not right, because it was not true.
Last week on one of our walks through the neighborhood, we came upon the chalk-drawn U.S. map you see above. My first reaction was to admire the map maker – this was a change from the usual chalked hop scotch game and seemed thoroughly done.
Then my eyes narrowed, because even with the whole cul-de-sac available as canvas, the artist chose to relocate – dislocate – Alaska and Hawaii, moving them south of California and Texas. Sigh.
I've been thinking of much more consequential dislocations this week, though – especially as we've been praying for our friend who has painfully dislocated her collarbone and top rib.
And then, widening my vision beyond my own neighborhood and friendship circles, I think of all the dislocated, displaced people in the world. I think of refugee camps, and of people on the move from what they've known as home to wherever can become home. For more on what our Seventh-day Adventist's response is to the refugee crisis, go to refugeeministries.com, for the website of Adventist Refugee & Immigrant Ministries. The information presented there gives us much to ponder and pray over, as we consider what our individual responses can be, and perhaps our congregration's response.
We're entering the month of Thanksgiving, which will swiftly move along to the month of Christmas. It's a season I'm looking forward to this year, allowing me to spend more time thinking about thanking. I'm so thankful for Jesus, who chose to become dislocated, all for love of us. One of my favorite Bible passages paints that downward move:
Let this mind be in you which was also in Christ Jesus, who, being in the form of God, did not consider it robbery to be equal with God, but made Himself of no reputation, taking the form of a bondservant, and coming in the likeness of men. And being found in appearance as a man, He humbled Himself and became obedient to the point of death, even the death of the cross. (Philippians 2:5-8)