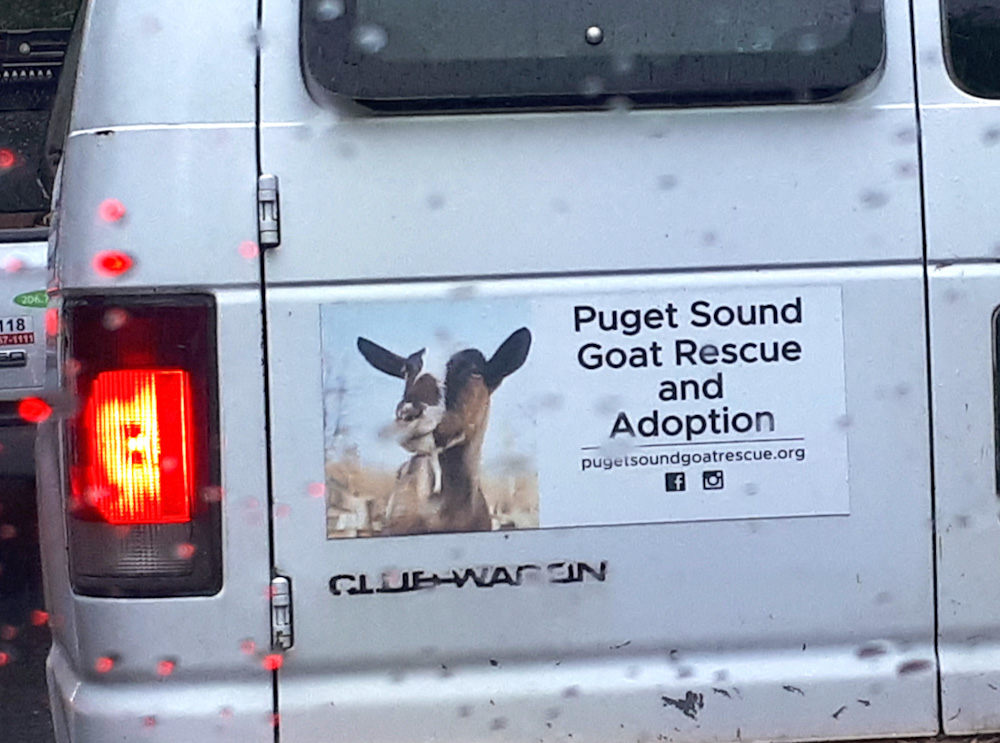 Photo ©2019 by Amber Jurgensen
Commentary ©2019 by Russell Jurgensen
Thursday, October 31, 2019
Amber spotted this decal for a goat rescue on a rainy day and grabbed a shot. Having had goats most of her life, she has a special spot in her heart for them. Goats are surprisingly sensitive creatures. They might not show it sometimes, but they understand kindness and playfulness.
One time two of our pygmy goats were pressing their heads on my knee at the same time. I thought what a great idea to push back on both of them at once. As soon as I thrust my knee forward I realized it was a mistake. Both goats were mad and offended. It took a good ten minutes of sweet-talking and fur-scratching to get them to calm down.
We are kind of like goats who need adopting, and the Lord does not forget us.
But when the set time had fully come, God sent his Son, born of a woman, born under the law, to redeem those under the law, that we might receive adoption to sonship. Because you are his sons, God sent the Spirit of his Son into our hearts, the Spirit who calls out, "Abba, Father." So you are no longer a slave, but God's child; and since you are his child, God has made you also an heir. Galatians 4:4
It is comforting to know we are adopted to be full children of God.