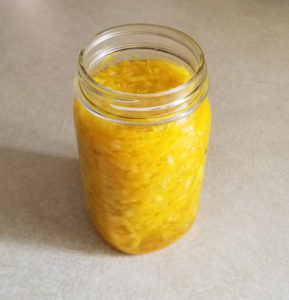 Photo and Commentary ©2019 by Russell Jurgensen
Thursday, October 17, 2019
Passion is kind of a strong word in the Bible. These days we might use it to indicate a strong interest in something. Some people have a passion for cooking. Take the sauerkraut in the picture, for example. The person who made this spent a fair amount of time reading sauerkraut recipes, practicing, and watching YouTube videos on how to make really good Sauerkraut.
I'd say the effort paid off and the result is an attractive nicely flavored relish that is great in a sandwich or by itself.
It is nice to know that the Lord has a passion for each one of us. "For God so loved the world that he gave his one and only Son, that whoever believes in him shall not perish but have eternal life. For God did not send his Son into the world to condemn the world, but to save the world through him." John 3:16